5,500 doctors appointed in UP in past one year: Minister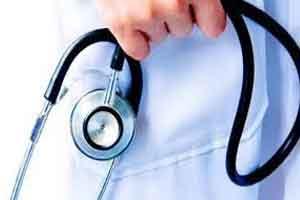 Lucknow
: Uttar Pradesh Health Minister Sidharth Nath Singh said that the state government has made available over 5,500 doctors in state-run hospitals in last one year and efforts are still on to appoint specialized doctors in the hospitals so that quality health care facilities are made available to the people.
"When this government came to power there was scarcity of over 7500 doctors. We are able to manage services of doctors, including Ayush and appoint them in government hospitals," the health minister said in the state assembly during question hour here on Monday.
Replying to a question of Masood Akhtar (SP) the minister said that to ensure presence of doctors the Government has rejected VRS application of doctors and has also increase the retirement age of PHMS doctors from 60 to 62 years.
"The government has given re-employment to 275 retired doctors and appointed 185 doctors under NRHM. Besides, 205 doctors were appointed under walk-in interview. Other than this Ayush doctors have been sent to state-run hospitals. Our focus is to provide doctors in hospitals," minister said.
He however admitted that there is scarcity of specialized doctors in the hospital and government is trying to appoint specialized doctors in CHC and PHCs.
Answering another question minister said that government has started a campaign against un registered nursing homes to ensure that government doctors do not work in nursing homes. In last one year action has been taken against 1233 nursing homes of which registration of 17 nursing homes have been cancelled and FIRs have been lodged against 686 private nursing homes.
Answering a question of Narendra Verma (SP) he said that government has plans to rope in Income tax department in identifying government doctors who are working in nursing homes too .
Minister, while answering question of Manoj Pandey (SP) said that 43 trauma centers will be set up across Uttar Pradesh of which 6 will be financed by central government.