Ahmedabad doctors stop working after Female Doctor Assaulted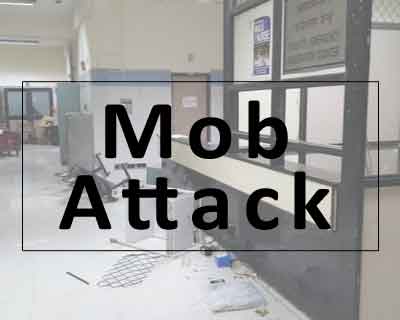 Ahmedabad: Resident doctors of the civil hospital went on a flash strike after their colleague was attacked by a mob following the death of a patient. The stir was called off after the security was stepped up.
Around 300 resident doctors of the hospital stopped work around 10 pm on Sunday after a woman colleague was assaulted last evening by a group of around 50 persons, upset due to the death of a patient, who had suffered a serious head injury. Not only was the female doctor assaulted, but her chain was also snatched away by the assailants according the many reports.
However, the doctors resumed the duty from noon today, after the hospital administration scaled up the security arrangement there, an official said.
The incident came in the wake of the five-day strike by resident doctors in Maharashtra to protest against a spate of assaults.
"A mob of around 50 persons entered the hospital premises and attacked a woman doctor after a patient died due to head injury. Following this, doctors refused to join duty and demanded better security arrangements at the hospital last night," medical superintendent of civil hospital, M M Prabhakar told PTI.


"Protesting doctors demanded better security arrangements and a facility to file FIR without delay. We offered them written assurance to enhance security and with immediate effect, security arrangement of the hospital has been enhanced. With this, the doctors called off strike and joined duty," Prabhakar said.

Deputy Commissioner of Police, Zone 4, Pratiksha Rathod, said that as per the demand made by the doctors, security arrangement of the civil hospital has been beefed up with the deployment of more police personnel.

"We have deployed State Reserve Police Force (SRPF) personnel at nine different points of the hospital, and a PCR van has been stationed there permanently. We have also deployed three police personnel at trauma centre of the hospital," Rathod said.

Earlier, only two policemen were deployed at the hospital and one had to call up police control room for any additional assistance, she said.