Allopathy Observership for AYUSH in Surgery, Forensic and Gynae Depts; Kerala Doctors cry foul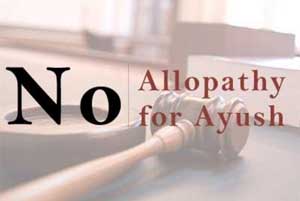 Kozhikode: All up and arms opposing the state government's move of permitting Ayurveda and Homeopathy students to train in allopathy under an 'observership' program, the Indian Medical Association (IMA) recently stated that the training will lead to "back-door entry of second-grade doctors."
The move is subsequent to the requests from students of Ayurveda and Homoeopathy that they wish to "observe" modern medical practices. This training gives alternative medicine students to observe the basic aspects of modern medicine as a part of their curriculum.
As per a recent state government notification in this regard, BAMS (ayurveda) and BHMS (homoeopathy) medical students should be given an opportunity for 'observation' in postmortem, gynaecology and general surgery departments of government hospitals.  As soon as the notification was released by the state government, it created a spark, with the IMA opposing the move, while the Ayurveda Medical Association of India  coming out in its support
The health department, however, justified the observership. "It is not even training as it is being propagated. The order insists on providing an opportunity to closely observe the procedures,'' additional chief secretary (health), Rajeev Sadanandan told TOI.
The conflict regarding this observership in not a new one. In 2012 the Central Council of Indian Medicine (CCIM) issued a notification, which said, six-month training has to be undergone by the students of alternative medicine. In respect to Prasuti and Stri roga subjects related to gynaecology, the intern is supposed to be trained to deal with antenatal and post-natal problems and their remedies, management of normal and abnormal labour, minor, major obstetric surgical procedures and antenatal and post-natal care, the notification stated.
Opposing the same, allopathy doctors under the umbrella of the Indian Medical Association (IMA), State branch, knocked high court's doors. During the hearing, the question, whether Ayurveda students can be allowed training in modern medicine like surgery and labour, was raised.
IMA argued that such training and observations hardly benefitted people while being in clear violation of the spirit of the MCI Guidelines. Whereas, Ayurvedic practitioners argued that such training and observations were a part of their curriculum and was being imparted to students for the last 20 years.
On the 'observership part', IMA stated, "Our system is different from theirs. Then what is it they want to observe? Surgery, labour and autopsy are not exhibitions. Moreover, what use it will be for an Ayurveda doctor who does not practise modern medicine?''
In its conclusion, the court granted permission to BAMS, BHMS and BSMS house-surgery students to do an internship in government hospitals. The order, in particular, dealt with the gynecology internship/observership to be done by these students as a part of their curriculum.
"Such training cannot be denied to Ayurveda doctors," the court held.
Read Also: Kerala: Legal battle over Allopathy training of Ayurveda practitioners
Dissatisfied with the court's order, IMA filed a dismissal of appeal case in which it contended allowing alternative medicine students into labour rooms meant transmission of disease and contagious infection.
Further, the association notified the court that if allopathy doctors were found to train students of other branches of medicine, the Medical Council of India (MCI) could cancel their license. As per law, they could train only students of modern medicine.
Refusing all the contentions made by IMA, the court  once again ruled in favour of the course stating, "The apex body was of the prima facie opinion that elementary knowledge of gynaecology was essential for those pursuing BAMS, BHMS and BSMS degrees."
Read Also: Ayurveda students can undertake allopathy internships: High Court
Now, with observership being extended by the state to other departments including surgery and forensic medicine, the issue has been raised again. Stating that the training will lead to "back-door entry of second-grade doctors," N Sulphi, Secretary, IMA Kerala Chapter told Hindu, "It will pose a threat to the public health system as we already have many cases of untrained people practising modern medicine."
According to IMA state president Dr E K Ummer, such training would result in producing quacks. While talking to
TOI
, he added, "IMA will be forced to launch an agitation against this order and no doctors in government hospitals will be ready to impart training for medicos from other systems of medicine."
Read Also: Bridge Course to Allopathy: MUHS invites applications from 40,000 Homeopaths