AP CM lays foundation stone construction of cancer hospital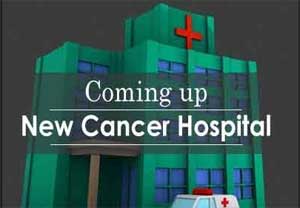 Amaravati: Andhra Pradesh Chief Minister N Chandrababu Naidu and his MLA brother-in-law N Balakrishna laid the foundation stone and performed bhoomi pooja for the construction of Basavatarakam Indo-American cancer hospital and research institute at Tulluru village here on Thursday.
The Chief Minister, his wife N Bhuvaneswari, Balakrishna who is also the Managing Trustee of the hospital, and his wife N Vasundhara performed pooja at the site on the occasion.
Read Also: National Cancer Institute, largest Cancer Hospital in India opens its doors in Haryana
The Capital Region Development Authority (CRDA) allocated 15 acres of land for the hospital at Tulluru.
Addressing the gathering on the occasion, the Chief Minister said there is a need to increase awareness on cancer among people.
He said that study should be carried on the preventive measures to be taken to check cancer and asked the management of the cancer hospital to complete the construction in the next one-and-half years.
Mr Naidu announced that 14 major medical colleges and 14 hospitals are coming up in Amaravati. In the coming days, Amaravati would become a medical hub, he predicted.
Read Also: Make Swami Rama Cancer Hospital fully functional, direction Uttarakhand HC
He said that the actor-turned-politician N Balakrishna had launched the Basavatarakam cancer hospital in Hyderabad which is providing cancer treatment to thousands of people.
Assembly Speaker Kodela Siva Prasada Rao, Ministers N Lokesh, Nakka Ananda Babu, P Pulla Rao, Farooq, MP K Narayana, eminent cancer specialist Sr.Dattatreyudu, Collector Kona Seshidar and CRDA Commissioner Ch. Sridhar were present on the occasion.
Read Also: HP: 76-year-old Philanthropist Urges for Cancer Hospital in his Remote Village