AYUSH Minister inaugurates first advanced Homoeopathy Virology lab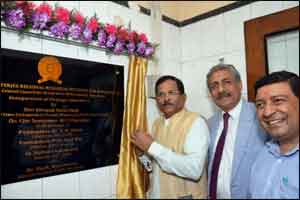 "This laboratory has been established to develop new drugs and technologies in homoeopathy to combat emerging challenges of viral diseases," said Naik, while launching the laboratory.
"This institute has undertaken several clinical research studies such as autism, psoriasis, vitiligo, breast cancer, hypertension, migraine etc. along with proving of new drugs in homoeopathy with their clinical validations," Naik told HT
"Government of India is doing everything possible to promote research in various departments of homoeopathy— clinical research, drug standardization and basic research, and encourages new researchers to make India the leader in research arena of homoeopathy," he added.