Batra hospital sets up research wing, proposes clinical trials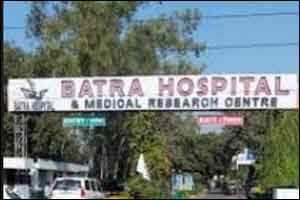 New Delhi:  A leading private hospital in the city has planned to carry out clinical trials for combating heart-related ailments, and set up a research centre for it.
The Academic and Research Department at the 30-year-old Batra Hospital and Medical Research Centre (BHMRC) was launched.
The department, housed in the hospital located in Sangam Vihar area in south Delhi, seeks to benefit people through community outreach programmes including health education and prevention campaigns.
"One of the important components of this new department is to carry out epidemiological studies and clinical research to evaluate rheumatic heart disease, hypertension and diabetes. The Ethics Committee will today decide on the plan of clinical trials," said Dr Upendra Kaul, noted cardiologist and dean of the department.
An approval of the Ethics Committee is mandatory before carrying out clinical trials. The meeting of the panel is currently underway at the Batra Hospital.
"The department will conduct health education programmes to raise awareness among residents regarding virtues of sanitation, and about anaemia, heart attacks and cervical screening," Kaul, also co-chairman of an expert group formulated by the central government to promote cardiovascular research, told reporters.
He said through the department the hospital would also implement the 'Anaemia free programme' in line with the vision of the prime minister.
"We will implement biannual de-worming for control of worm infestation, provide information and counselling to local people to improve their dietary intake. Screening for moderate and severe anaemia will also be undertaken as part of the programme. Iron and folic acid supplements to reduce nutritional anaemia will be distributed," he said.
Dr S C L Gupta, a former MLA from Sangam Vihar, who was present on the occasion, said, the area with a population of 17 lakh, is inhabited mostly by migrants from Bihar and Uttar Pradesh, who are prone to oral cancer due to their predisposition to consume tobacco or smoke beedi.
"It is therefore important that a programme like this reaches out to those people and educate them on healthy habits, prevention of heart diseases and other ailments they might be prone to," he said.
Kaul said, many young adults in the area succumb to heart attacks. "We will educate the population regarding the risk factors and preventive measures which should be taken.
Consuming a simple aspirin while getting a heart attack can reduce the number of mortalities."
Set up in 1987 by Ch. Aishi Ram Batra Public Charitable Trust with an infrastructure comprising of 495 beds, 14 operation Theatres, 112 ICU beds, round-the-clock emergency facilities, a full range of state-of-the-art diagnostic laboratories and comprehensive rehabilitation facilities, it was inaugurated by then Prime Minister Rajiv Gandhi.
Coinciding with Teacher's Day, a MoU today was also signed between the BHMRC and the Amity University to foster academic and scientific collaboration in the fields of biomedical sciences, with a focus on academics and clinical and scientific translational research.
"The BHMRC is also on the verge of collaborating with various institutes like New York University, Duke University, NIH, Department of Science and Technology and Public Health Foundation of India to initiate collaborative projects of national and international importance," the hospital said.