Bedi finds shortcomings at Karaikal govt hospital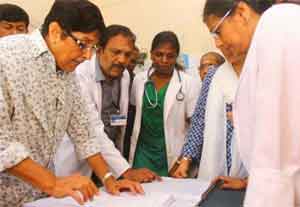 Puducherry: Lt Governor Kiran Bedi said she found several shortcomings including 'dirty environment' in a government general hospital at Karaikal during her visit.
She also found similar problems at the government-sponsored Pandit Jawaharlal Nehru College of Agriculture and Research (PAJANCOA) in Karaikal, an enclave of Puducherry as part of her five-day tour of the region.
In a WhatsApp message circulated to reporters after the end of the visit, Bedi said there were several shortcomings in the functioning of the two institutions.
Referring to the government general hospital, she said "the state-of-affairs at the hospital is sad. There is zero co-ordination or analysis. Dirty environment and no digitisation."
She called for help from centrally-run JIPMER to rectify the situation.
Sources here said Bedi had called for a joint meeting of officials of the Directorate of Health and Family Welfare Services, the administration of Karaikal and JIPMER in Karaikal tomorrow to review the "sad state of affairs at the hospital and to draw an action plan to rectify the lacunae." The former IPS officer after visiting PAJANCOA said, "it is sad that students of the college were not reading newspapers at all."
She stated that students of the college started in 1987, were not linked with the villages for practical training and 'were also not aware of the schemes of the Central government at all.'
Bedi also said that the college authorities were not holding general body meeting once a quarter as per rules.
The Puducherry Chief Secretary is the chairman of the management of the college and the last general body meeting was held in February 2016 'according to documents made available,' she said.
She also claimed that the "field visit had no substitute.
The more I tour and do field work the more I believe in its power. There is no substitute to this."