Bravo: Retired Government Doctor saves life mid-air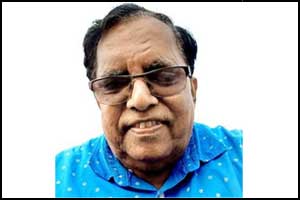 Mysuru: Dr Prabhulingaswamy Sanganalmath has proved that a doctor is never off duty when he applied his professional expertise in saving life of a fellow passenger while travelling from Paris to Bengaluru from Air France flight recently.
Dr Sanganalmath is a 69-year old retired government physician, presently running a family clinic at Kuvempunagar. According to the doctor, he was returning from Paris when a European senior citizen, travelling on the same flight collapsed. The cabin crew made an announcement for a
medical assistance
.
Read Also: Bravo: Odisha Surgeon revives passenger Mid-Air
In a conversation with The Hindu, Dr Sanganalmath stated, "I was perhaps the only doctor travelling. There was a nurse in the flight who assisted me."
Dr Sanganalmath informed that there was no pulse and the patient was not breathing. With the help of the nurse, cardiac massage was given to the patient followed by resuscitation process. The emergency health kit and oxygen tank to supplement resuscitation was brought by the air hostesses.  After a couple of hours, the patient was fine as he started speaking and even drank juice.
"The patient was under observation until the flight landed in Bengaluru and was then taken to the airport clinic for further examination," Dr Sanganalmath further informed The Hindu.
After the flight landed in Bengaluru, the flight captain and the cabin crew expressed their gratitude towards Dr Sanganalmath to which he said that it was no more than his duty.
Dr Sanganalmath told The Hindu "The flight captain came to me and expressed his gratitude for my help. Next day I got a message from Vincent Feuillie of Air France Passenger Medical Service thanking me for the medical assistance. Now, the airline has offered me a voucher worth 100 Euros as a token of appreciation."
Read Also: BRAVO: Delhi- based Doctor Couple save Woman in Respiratory Distress Mid-Air