Transcatheter therapies, future of tricuspid regurgitation management: Glances from EuroPCR 2021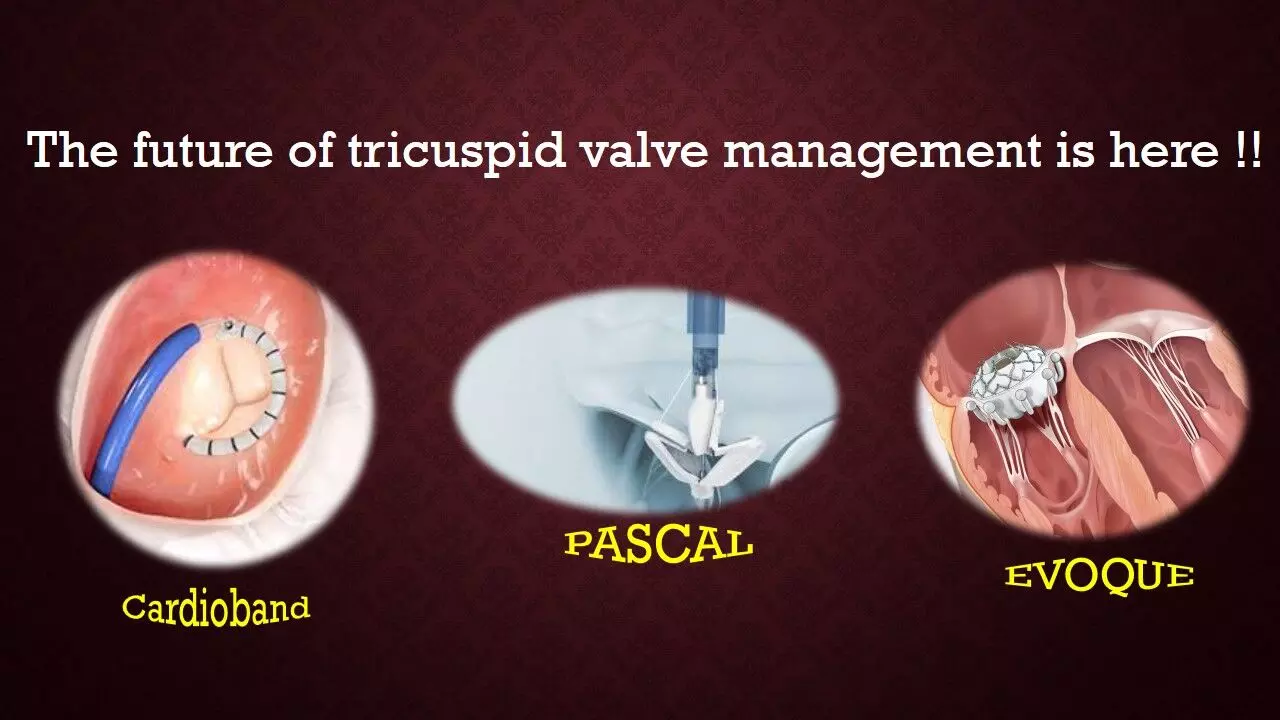 Transcatheter therapies for tricuspid valve disease are ready to take the front seat in management of tricuspid valve disease, as evidenced by three studies presented at this week's EuroPCR 2021: TRISCEND, TriBAND, and CLASP TR.
In a nutshell, these studies suggest that percutaneous devices are a viable treatment for tricuspid regurgitation (TR). These studies use varied approaches like annular reduction, transcatheter edge-to-edge repair (TEER), and valve replacement—aimed at addressing Tricuspid regurgitation (TR).
• Thirty-day data from TRISCEND (1) supports valve replacement, specifically with the Evoque device, in patients with symptomatic and at least moderate TR.
• From CLASP TR (2), there's a 6-month report building on 30-day results released at last year; the latest findings continue to indicate that TEER with the Pascal device can be safely used for symptomatic, severe TR.
• TriBAND (3) study confirms that the Cardioband system, an incomplete annuloplasty ring, can reduce TR in patients with symptomatic, severe disease at the time of hospital discharge, with favorable outcomes seen at 30 days.
The encouraging results from these studies have strengthened the available armamentarium for tackling TR by transcatheter route.
Since patients with TR tend to present late, hence even though results of a surgical repair/replacement are good but by the time these patients reach the threshold for TV correction, many are too old and fragile for an open surgery.
TRISCEND
TRISCEND enrolled 56 patients, 84% of whom were NYHA functional class III-IV; 92% had at least severe TR. For 68%, the etiology of TR was functional, whereas 11% had degenerative TR and the rest had mixed/other origins. The patients received Evoque device to replce native valve function.
Baseline TR grade was severe in 46%, massive in 29%, and torrential in 15%. By 30-day follow-up, however, 98% had mild or none/trace TR. All patients had a reduction of at least one TR grade and 95% had a decrease of two or more grades. Three-quarters were NYHA class I-II. There were significant improvements in 6-minute walk distance and Kansas City Cardiomyopathy Questionnaire (KCCQ) score.
CLASP TR
The use of edge to edge repair system in this study showed that 70% of the total 63 patients had started out with NYHA class III-IV at baseline. Six months later, 84% were NYHA class I-II. At baseline, TR was categorized in 69% as "massive or torrential," a proportion that dropped to 8% by 6 months. Within 6 months, 89% improved by at least one TR grade and 70% saw at least a two-grade reduction in TR. There were significant gains in quality life on the KCCQ.
At 6-month follow-up, two patients each (2.3%) had died of CV causes or experienced stroke, and there were no MIs. Severe bleeding occurred in five patients (7.9%), while reintervention related to the device and major access-site/vascular complications requiring intervention were seen in one patient (1.6%) each. Other events included all-cause death (3.2%), heart failure hospitalization (6.3%), and single-leaflet device attachment assessed by a core lab (4.8%).
TriBAND
Cardioband, which repairs the annulus, also is progressing down the pike.
The TriBAND study included 61 patients with severe and symptomatic functional TR who hadn't responded to diuretic therapy. Most (85%) were NYHA class III-IV at baseline. By discharge, 59% had reached moderate-or-lower-grade TR, with 78% showing a reduction of at least one grade. Septolateral annular diameter decreased by 20%, the researchers note in EuroIntervention, pointing out that these changes were "accompanied by early evidence of right heart remodeling."
At 30-day follow-up, there was one MI (1.6%) but no CV mortality or stroke. There was one all-cause death. The most common complications were severe bleeding, in seven patients (11.5%); major access-site/vascular complications and coronary artery injury requiring intervention, each seen in four patients (6.6%); and new need for renal replacement therapy, in two patients (3.3%). The majority (74%) were now in NYHA class I-II, and overall KCCQ score had improved by 17 points.
• Sources:
1. Nickenig G, Friedrichs K, Baldus S, et al. Thirty-day outcomes of the Cardioband tricuspid system for patients with symptomatic functional tricuspid regurgitation: the TriBAND study. EuroIntervention. 2021;Epub ahead of print.
2. Eleid M. Transcatheter valve repair in patients with severe tricuspid regurgitation: six-month results of the CLASP TR early feasibility study. Presented at: EuroPCR 2021.
3. Kodali S. Transfemoral tricuspid valve replacement: TRISCEND study 30-day results. Presented at: EuroPCR 2021.