Chattissgarh: Quintuplets birth to go in Limca Book of Records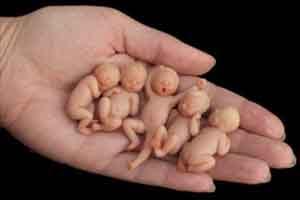 Chattisgarh: Ambikapur health department and district administration want the recently born five babies of the same gender with same blood-groups- the quintuplets born in India to be in the Limca Book of Records.
Medical authorities of Chattisgarh are also treating the four among the five babies for pneumonia.  Chhattisgarh doctors claim that this is first time a woman in India has given birth to quintuplets (five babies at once). It is a premature delivery (in six months), as a result of which the girls suffer from low-birth weight.
AIIMS Raipur who are reportedly treating the babies free of cost are also running a medical bulletin on the health of the babies. It currently states that three babies are also suffering from jaundice, and the next few days are extremely critical for the babies.
TOI
reported that AIIMS doctors also said that the babies need immediate blood transfusion. "All the girls have A positive blood group. They need blood immediately. The babies are in NICU. Even the mother is admitted in hospital as she needs to be monitored," said DPO Ashok Pandey.
As per our research, this is the first case in country where all the five babies are of same gender and have same blood group. We will send the application to authorities of Limca books through district administration," said Dr NP Pandey, chief superintendent of Ambikapur district hospital.
In the meantime, a facebook post (on the quintuplets) has raised and collected funds from US based doctors and businessmen for the treatment and nutrition of the babies. The amount has been transferred in the bank account of a senior journalist of Raipur who will soon be sharing the money with the parents, and will also be used for their education. District administration is also reported to have extended financial help to the parents.