Chennai: VS Hospitals Center for Advanced Surgeries inaugurated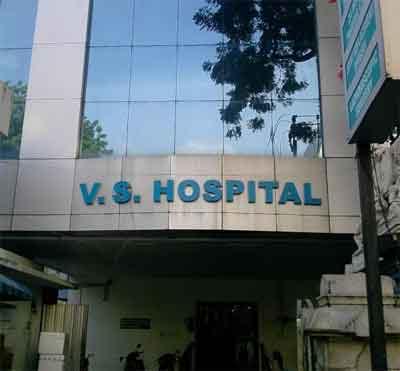 Chennai : Shri. G K Vasan, Former Union Minister and President of Tamil Maanila Congress, dedicated to the nation VS Hospitals' new Super Specialty Tertiary Care Centre for Advanced Surgeries at an inaugural function held recently at the Kilpauk facility in the presence of Padmashri Dr. Mayil Vahanan Natarajan, Former Vice Chancellor, Tamil Nadu Dr. MGR Medical University, Shri Kalaipuli S. Thanu, Producer and Chairman of V Creations producers of KABALI, Dr.CMK Reddy, President of Tamil Nadu Medical Practitioners Association and Prof. Dr. S. Subramanian, Chairman and Managing Director, VS Hospitals.
 The event also saw the launch of Health-First Card and a very unique Joy of Giving program of VS Hospitals.
The state of the art new advanced surgical facility offers patient centric services across Orthopaedics, Joint replacement (knee, shoulder, hip), Spine Surgery, Sports Medicine, Neuro Surgery, Gastro Surgery, Bariatric Surgery, Minimally Invasive Laparoscopic Surgery, Plastic Surgery, General Surgery, Gynaecological Surgery, Uro Surgery, Medical Gastroenterology, Nephrology, Internal Medicine, Critical Care, and Emergency Care in a highly hygienic well-equipped environment (according to WHO safety standards). It has spacious semi-private rooms, private rooms, suites & an exclusive international floor in addition to dialysis, ICU, and Emergency amongst others.
Bluetooth-enabled wireless headphones for entertainment systems in the patient rooms; fully air-conditioned and Wi-Fi enabled facility with `Happy to Help' service will make patients feel at home.
The `Health-First' card holders can save up to 50% across Out-patient consulting/procedures, CT Scan, X-Ray Lab, Ultrasound, Echo, Physiotherapy and Preventive Health Checks during normal hours (7 am to 8 pm). Senior citizens above 60 years will save an additional 5%.
Between 8 p.m. & 7 a.m., CT, X-Ray and Lab services are offered at 50% lower resulting in huge savings & convenience without disruption in daily routine It is noteworthy that the `Health-First' card holder can hand over the card to anyone he or she cares for and the concession will be offered to them too.
Health-First lets you avail of substantial concessions on Out-Patient Spend, which normally is not covered by Insurance nor reimbursed by the Employer and where you have to pay from your pocket, and more for the senior citizens who will enjoy additional concessions. Even if it employer reimbursed spend, the spend will be lower and the employer outflow will be lower too.
The Joy of Giving is a unique program that lets socially responsible citizens across the spectrum to have the discretion to identify the deserving and sign a personalized Joy of Giving Cheque leaf in their favour, thereby entitling the beneficiary to substantial concessions on both Out-Patient and In-Patient bills.
The decision to help is now in the hands of civic society and as responsible healthcare provider, VS Hospitals will respect the choice of the benefactor and extend the promised concessions and benefits.
It empowers persons holding Responsible positions, Philanthropists, socially responsible citizens, Volunteers, and Goodhearted persons to sign a personalized `Joy of Giving' Cheque leaf in favour of the deserving they identify or wish to support. This will entitle the beneficiary for concessions on Out-patient consulting/Procedures, CT/X-ray, Ultrasound/Echo, Lab, Physiotherapy and most importantly for In-patient and ICU admissions.
"VS Hospitals has been evolving over a decade as a well-rounded healthcare service provider starting initially with advanced & comprehensive cancer care facility on spur tank road, Chetpet, followed by multi-specialty facility in the annexe, single specialty clinic in the adjacent  & now to this tertiary care center for advanced surgeries at Kilpauk , we are thankful to our patients & patrons who continue to trust us in our endeavour to deliver ethical medical care as a service," said Prof. Dr. S. Subramanian.