Delhi Medical Council Suspends doctor for sex determination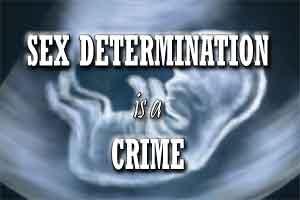 Taking serious note of a Delhi Based radiologist, indulging in sex determination activities in one of the premier hospitals in West Delhi, the Delhi Medical Council has ordered immediate suspension of the said doctor and has initiated an enquiry against him.
Taking cognisance of the violation of the act and registering of the FIR against the concerned doctor, Delhi Medical Council is suspended the registration license of Dr A.S Chauhan with immediate effect, pending further investigation and if found guilty and with framing of the charges, his registration shall be permanently cancelled.
With the suspension of the license, Dr A.S Chauhan shall not be eligible for practice of medicine in whatsoever form.
Speaking to Medical Dialogues on the issue, Dr Arun Gupta, President, Delhi Medical Council said,"
Delhi Medical Council is deeply concerned about the ongoing involvement of medical professional in the sex determination activities and the violation of PC-PNDT act. These repeated incidences are bringing Medical profession to shame and are considered as gross violation of Medical Ethics and punishable under various mandates of law. The council strictly warns all medical professionals to abstain of involving themselves from any form of sex determination and thus disturbing the biological ecology of the society or Council will be forced to take more stricter action against them."