Delhi-NCR: Doctors caught in sex determination sting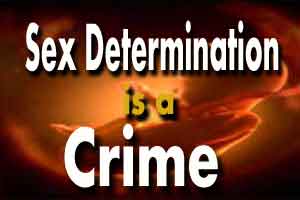 Delhi/NCR- In two different sting operations done in the capital and neighbouring Gurgaon region, Doctors and staff associated with two hospitals have been arrested for performing sex determination tests.
The first Case relates to MGS Superspeciality Hospital in Punjabi Bagh, where in a sting operation, the radiologist was caught performing sex-determination tests along with a tout. The health department had used a decoy of a twelve week pregnant woman who approached the doctor and was charged Rs 11,000 for the procedure. The doctor has been identified as a repeat offender.
"Dr A S Chauhan who was found guilty of indulging in illegal sex determination on Monday was caught in an earlier case too in which the raiding team had recovered an ultrasound machine from his residence. He was later released on bail," said Dr Shalley Kamra, State Programme Officer, Pre-Conception and Pre-Natal Diagnostic Techniques Act, state health department told 
Deccan herald.
The health department has suspended the PNDT registration of the hospital and issued a show-cause notice to the institute. Also, based on the evidence, the doctor and the tout have been handed over to the police.
The second case, moves, to the neighbouring region of Gurgaon, where the authorities have lodged an FIR against the gynaecologist, owner as well as the receptionist of Bhatnagar Hospital on Railway Road, after the decoy operation found sex determination being performed there. The authorities have also arrested Lady Health Visitor (LHV) of a primary health centre in Bhondsi, who was caught in the sting acting as a tout for the sex determination activity. During the sting, a decoy approached this LVH, one Krishna, who allegedly demanded Rs. 20,000 for getting the test done. After taking the money, the lady took the decoy to Bhatnagar Hospital where one Renu, a receptionist, conducted an ultrasound on the foetus. The authorities caught these people red handed, while recommending FIR to be also registered against Vinita Bhatnagar, gynaecologist at the hospital; B.M. Bhatnagar, owner of hospital, noted 
Hindu
.
In both the cases, there were other discrepancies, such as no Form -F being filled, no records being maintained, etc, all of which have been noted by the authorities for appropriate action.