Digital methods for Evaluation of gingival recessions better than conventional way: Study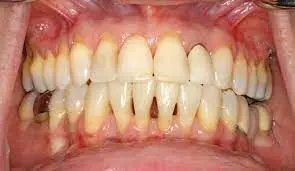 The conventional clinical method for gingival recession evaluation exhibits lower sensitivity and accuracy than the digital method, according to the latest study published in the Journal of Dentistry.

The present study aimed to compare the conventional clinical and a digital method for evaluating differences in gingival recession (ΔREC) in patients with advanced periodontitis treated with the non-surgical treatment protocol.
Agreement between the methods was evaluated on a sample of ten patients with periodontitis (stage III/IV, grade B/C) with acquired clinical measurements and digital models from baseline (T0) and 12-months after non-surgical treatment of periodontitis (T1). The evaluation was performed on maxillary teeth from right to left second premolar resulting in overall 99 teeth. Clinical evaluation was performed by subtracting the distance measurements between gingival margin and cemento-enamel junction, obtained at T0 and T1 by a calibrated examiner (intra-examiner agreement >90%). The digital evaluation was performed directly by measuring the distance between the gingival margins on superimposed T0 and T1 digital models. Using Bland–Altman and statistical analysis, all six measurements sites around each included tooth (n=594) acquired with both methods were compared.
Results of the study are:
Median ΔREC (5th and 95th percentile) acquired with a conventional clinical and digital method was 0.0mm (-2.0 – 1.0) and -0.4mm (-1.6 – 0.8), respectively (p<0.0001). The complete agreement between rounded digital and clinical ΔREC values was only 38%, revealing high disagreement also confirmed by Bland-Altman analysis with 95% limits of agreement ranging from -2.6 to 1.8mm. Absolute differences between the methods higher than 0.5 and 1 mm, was found in 61% and 38% of measurement sites, respectively.
Thus, the conventional clinical method for ΔREC evaluation exhibits lower sensitivity and accuracy than the digital method.
Reference:
Evaluation of gingival recessions with conventional versus digital methods by Marko Kuralt et al. published in the Journal of Dentistry.
https://www.sciencedirect.com/science/article/abs/pii/S0300571222001506
Keywords:
gingival recessions, conventional versus digital methods, conventional methods, digital methods, Evaluation of gingival recessions, Marko Kuralt, Alja Cmok Kučič, Rok Gašperšič, Aleš Fidler, Journal of Dentistry, Gingival recession, Periodontal disease, Intraoral scanning, Dental models, Superimposition, Image analysis
Source : Journal of Dentistry BDS
Dr. Shravani Dali has completed her BDS from Pravara institute of medical sciences, loni. Following which she extensively worked in the healthcare sector for 2+ years. She has been actively involved in writing blogs in field of health and wellness. Currently she is pursuing her Masters of public health-health administration from Tata institute of social sciences. She can be contacted at editorial@medicaldialogues.in.