Late delayed positive readings for patch testing common with metal allergens especially gold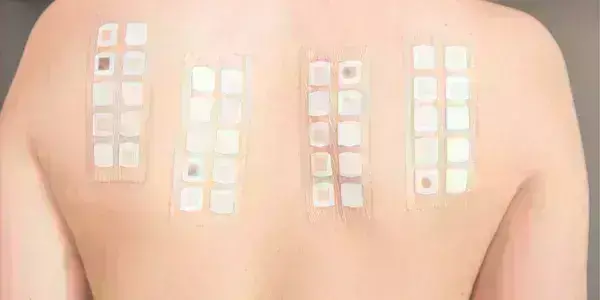 Late delayed positive reading for patch testing common with metal allergens especially gold suggests a recent study published in the Dermatitis.
Patch tests are read between days 5 and 7, because most hypersensitivity reactions occur within 7 days. Later reactions can occur after day 8, which may be missed.
The aim of the study was to review all late delayed positive (LDP) reactions that have occurred after day 8 at Mayo Clinic from 2001 to 2020.
Mayo Clinic records were reviewed for patients who had patch test readings performed at greater than day 8. Late delayed positive reactions were defined as any patch tests that were initially negative from days 4 to 7 yet became positive after day 8.
Two hundred seventy-four patients developed 439 LDPs to 89 allergens. Fourteen allergens had LDPs in at least 2% of patients: gold (gold sodium thiosulfate—3 concentrations, gold chloride, potassium dicyanoaurate), cobalt (cobalt sulfate, cobalt chloride hexahydrate), beryllium, palladium, acrylates (2-hydroxypropyl methacrylate, 2-hydroxyethyl methacrylate, 2-hydroxyethyl acrylate), dodecyl gallate, and gentamycin. Late delayed positive reactions to gold allergens were the most frequent reactions. Up to 90% of relevant gold allergen LDPs were positive by day 15.
Positive patch test readings after day 8 are uncommon, but allergens most likely to be positive are metals (gold, cobalt, palladium, beryllium), acrylates, dodecyl gallate, and gentamycin. Gold allergens showed the highest LDP rates and relevance, with most reactions occurring by day 15.
Reference:
Viggiano, Taylor BA∗; Yiannias, James A. MD†; Yang, Yul W. MD, PhD†. A Retrospective Review of Late Delayed Positive Patch Testing Greater Than Day 8 at Mayo Clinic From 2001 to 2020. Dermatitis 33(6):p 411-416, 11/12 2022. | DOI: 10.1097/DER.0000000000000951
Keywords:
Late, delayed, positive, reading, patch, testing, common, metal allergens, especially, gold, Dermatitis, Viggiano, Taylor, Yiannias, James A, Yang, Yul W.
Source : Dermatitis BDS
Dr. Shravani Dali has completed her BDS from Pravara institute of medical sciences, loni. Following which she extensively worked in the healthcare sector for 2+ years. She has been actively involved in writing blogs in field of health and wellness. Currently she is pursuing her Masters of public health-health administration from Tata institute of social sciences. She can be contacted at editorial@medicaldialogues.in.