District Medical and Health Officer in ACB net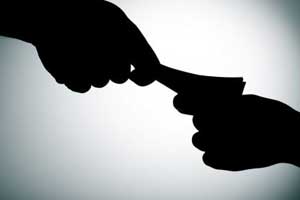 Hyderabad: The sleuths of Anti-Corruption Bureau (ACB) on Wednesday arrested District Medical and Health Officer on charges of taking bribe.
S Dhasya Naik, District Medical and Health Officer, Medchal District was caught in his residence at Kothapet, Ranga Reddy district while demanding and accepting the bribe amount of Rs 50,000 from the complaint S S Srinivas, General Manager, Kakatiya Hospitals, Medipally, Medchal District through his private agent Rachakonda Ram Mohan for doing officials favour-- to return the records that were seized by him from Kakatiya Hospitals during the inspection held on May 15, 2018.
Earlier, the accused officer demanded Rs 5 lakh for return of records and on repeated requests by the management, he reduced it to Rs 1.5 lakh and accepted the same from the complainant. Now, he again demanded further bribe of Rs 50,000 and was caught by the ACB officials.
Both hand fingers of Mohan answered positive results in chemical test and the bribe amount was recovered from his front left side pant pocket.
Naik and Mohan were being arrested and produced before the Special Court for ACB cases here.