Doctors demand guns as security to practice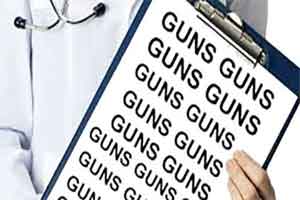 Following another incident of assault of a resident doctor at GMC, Nanded, angry members of the Maharashtra Association of Doctors have written to the CM, Maharashtra demanding better security measures for the doctors. Ironically, the letter makes it clear that either the government should improve the security measures for doctors or provide them with guns license so that medical professionals can ensure their own safety.
The reports of the assault come from the area of Nanded, Maharashtra as a Junior Doctor had been assaulted by four drunken men at GMC Nanded, late last night. As recorded by the CCTV footage shown below, the doctor on duty, Dr Nihal khan was attacked by these drunken men, who ran away after a bunch of resident doctors gathered to save their colleague
[embed]https://www.youtube.com/watch?v=WlTjIadNkRw&feature=youtu.be[/embed]
Following the incident, Entire resident doctor community at Nanded have declared a mass bunk demanding urgent arrest of the culprits. Angry members of the Central MARD have also written to the Maharashtra CM demanding better laws and enforcement for the protection of doctors, else the medical community would have to do " Whatever it takes to protect ourselves in these uncertain times". The doctors reminded the CM of an earlier order of 2015, of 2 relatives per patient which has sadly not been imposed uptil now.
The doctors have demanded the following


IMMEDIATE PROVISION OF FIREARM LICENSE to all doctors and armed personnel to protect them as doctors no longer feel safe practising medicine if their own life is in danger


INCREASE JAIL TIME UNDER DOCTORS PROTECTION ACT- Under the current provisions of the act, A person who commits such act shall be liable to a punishment with imprisonment for a term which may extend to three years, or with a fine which may extend to ten thousand rupees or with both. MARD has demanded an amendment to this act, making the punishment stricter and increasing it to 8 years. The reasoning behind this is that presently, the offence is not non-bailable as any punishment less than 7 years has been made bailable by the SC.


ENFORCE THE POLICY OF NOT MORE THAN 2 RELATIVES PER PATIENT AT GOVERNMENT HOSPITALS


Dr Sagar Mundada, President MARD Explained, " If the amendment goes through in the coming session, then all will be better off as the stricter law would create fear among those who have made it fashion to beat resident doctors. Moreover, pass system is recommended as it makes hospital less chaotic, reducing the chances of hospital acquired infection as well as reduce the mob attacks on doctors that we regularly see. If not, then government should simply provide us with firearm license, so that we can make arrangements for our own protection."