Doctors right to Strike : Supreme Court admits appeal, asks State Govt to file response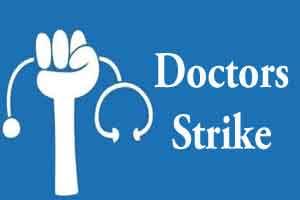 New Delhi: The Supreme Court did not interfere with an ongoing probe into a strike by junior doctors of a Uttar Pradesh hospital which had allegedly led to the death of several patients, but decided to hear an appeal against Allahabad High Court verdict directing the authorities to penalise them.
"Let the inquiry go on," a bench headed by Chief Justice T S Thakur said when senior advocate Sidharth Luthra was making submissions to assail the order of High Court which had also directed that Rs 25 lakh compensation be given to each family, the amount of which would be deducted from salaries, stipend and allowances of the striking doctors if deaths were found to have taken place due to the strike.
The bench, also comprising Justices D Y Chandrachud and L Nageswara Rao, issued notices and sought response of the state government, Health Department, Director of Medical and Health, Vice Chancellor of King George Medical University and an individual on whose PIL the High Court had delivered the judgement.
Luthra, appearing for the doctors' body, Medico-Legal Action Group (MLAG), stressed that the direction to recover the compensation amount from the striking doctors will lead to many complications and therefore it needed to be examined by the apex court.
MLAG has challenged the June 2 verdict of the High Court asking the state government to form a high level committee to probe the matter within two months.
It said the high court had passed the order against the medical practitioners who were not party to the case and were also not heard but saddled with the possibility of deduction of a huge amount from their salary.
"The members of the medical profession, who are already under great stress because of several legal provisions and judgements against them, would be further demoralised by judgements like the impugned judgement and this would result in further demotivating bright and deserving young persons from opting to pursue the medical profession in a scenario where there is a shortage of doctors in the country," the special leave petition (SLP) said.
Read Also : Legality of Doctors Strike: Petition filed in Supreme Court