Dr Harsh Vardhan urges all cardiologists participation to fight Non Communicable Diseases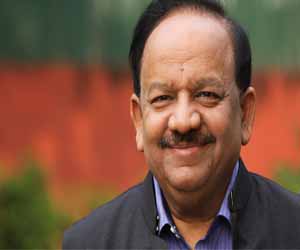 New Delhi: Dr Harsh Vardhan, Union Minister for Health and Family Welfare recently urged all the cardiologists of the country to come forward and be part of the Jan Andolan to successfully combat Non-Communicable Diseases (NCD) in India.
"There is an urgent need to expedite and accelerate the NCDs interventions as the burden of these diseases is rising in the country. This can be done through a mass movement with 'Jan bhagidari' where the energy and knowledge of all stakeholders and partners are channelized. I urge all the cardiologists of the country to come forward and be part of this Jan Andolan that we can successfully combat NCDs in the country,"  he stated at the high-level meeting to review the status of National Programme for Prevention and Control of Cancer, Diabetes, Cardiovascular Diseases and strokes (NPCDCS). Ms Preeti Sudan, Secretary (HFW), and other senior officers of the Health Ministry were present at the meeting.
Taking stock of the NCD Program, Dr Harsh Vardhan stated that we need to be steadfast and aggressive in combating NCDs. "New challenges demand we make innovative strategies and encourage new ideas and innovations and take advantage of them so that nobody is left untouched of our services," he added.
The Union Health Minister suggested integrated and multi-sectoral coordination, health promotion and health systems strengthening for NCDs."Half the battle is won when everyone is made aware of the ill-effects of an unhealthy lifestyle", he said. He has directed the officials to mount aggressive awareness campaigns adopting a healthy lifestyle which shall reach out to people at all levels.
Dr Harsh Vardhan further said that approved NCD Clinics and Day Care Centers must be made functional. "Ensure that there is adequate availability of drugs/consumables in the NCD clinics," the Union Health Minister stressed.
The Ministry presented on the screenings being conducted for NCDs at various government NCD clinics. Dr Harsh Vardhan appreciated that more than 6.53 crore people have been screened for NCDs in the country.
The Union Health Minister also reviewed the status of umbrella scheme of Rashtriya Arogya Nidhi that includes three subcomponents of Rashtriya Arogya Nidhi, Health Minister's Cancer Patient Fund and scheme for financial assistance for poor patients suffering from specified rare diseases.
Read Also:Need for collaborative teaching programmes in health care technology: Harsh Vardhan
In the review meeting, the Union Health Minister directed the officials to expedite the process of formulating the National Policy for treatment of Rare Diseases in consultation with all stakeholders.
While reviewing the National Programme for Prevention and Management of Trauma and Burn Injuries (NPPMT&BI), Dr Harsh Vardhan stated that it is important to create an enhanced capacity and infuse the knowledge of road safety related actions in public. He also suggested working closely with State Governments and developing an Action Plan for Road Safety.