Covid19 & Pharmaceutical Marketing : The 5Cs for the New Normal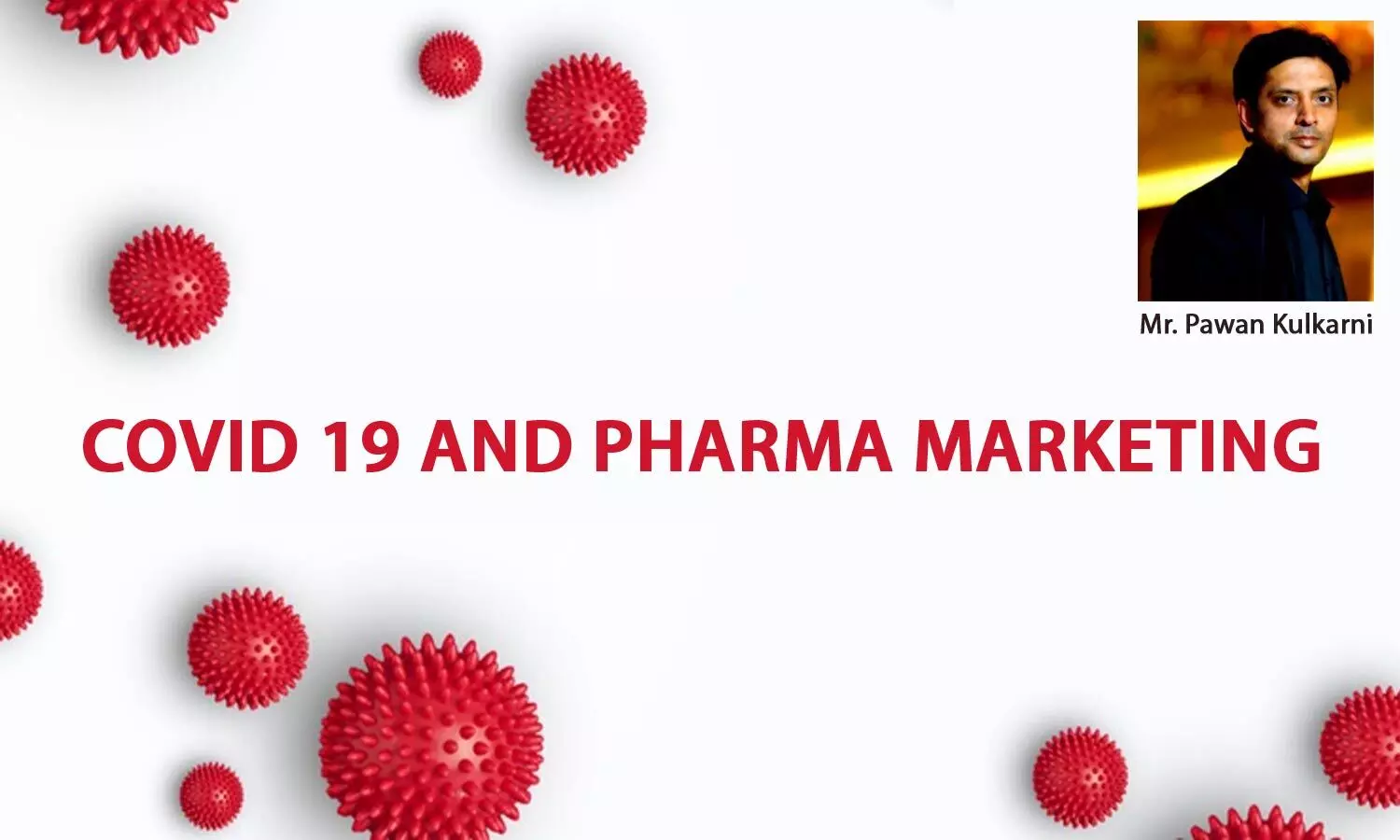 "There are decades where nothing happens, and there are weeks where decades happen"
Vladimir Lenin's line might depict the COVID19 strike.
For most of the companies in India, the month of March is a closure of the financial year. Nevertheless, no one had expected that this month would bring a closing to many of the routines they practised for decades. Within a fortnight of lockdown, an unpredictable trend (not only in pharmaceuticals) across industries has accelerated-which was neither expected nor not known to anyone. With the rapid spread of coronavirus (COVID-19) around the world, we are seeing a lot of uncertainty. Healthcare systems are reaching their limits and have even gone beyond something we have not seen before. The "NEW NORMAL" has hit the entire world and has indeed not spared the pharmaceutical industry as well.
Covid19 came as a malignancy to the marketers' job and benign to the climate. As marketers had ramped up the planning for the new financial year of 2020-21, little did anyone foresee the unprecedented international crisis that was about to hit the world at this scale.
With this, the pharmaceutical "marketing" also got kicked where it hurts the most. For time being, the entire sales-force have been grounded at home- factories either shut or running at the minimalist capacity, logistics facing issues in transportation with the added confusion of healthcare professionals' behaviour and meeting patterns post lockdown. Several are waiting for normalcy to return so they can jump back to their routine. The marketing and sales teams are trying hard to keep their heads above the water. This colossal challenge is coupled with an unpredictable and rapidly shifting reaction to the pandemic.
Industry in an "auto-pilot" mode (The Indian Context)
Neuroscientists call it a "DMN" state or "Default Mode Network". When the mind wanders, brain scans reveal that it switches to an "auto-pilot" mode where we carry on doing the tasks quickly. Now that's something we all marketers in pharmaceuticals seem to have suffered with. "How to meet doctors and remind them of our brand?" are the questions that are making entire industry marketers' minds wander. This was enough to trigger floods of branded emails, SMS & WhatsApp gratitude messages & so-called self-proclaimed creative forwards indicating social distancing by way of creating some space between the logo fonts from various companies. There has been indeed so much flooding that many doctors out of frustration have started replying or some even posting messages on social media in distress that they are getting 100s of messages daily. The industry has also apparently gone in SOS mode and there starts a tsunami of webinars.
A close friend who happens to be a practising MD in a class-A town told me that he gets around 4-6 webinar invites on a daily basis. At any point, we should not undermine the webinar platform for a few negative reactions, as doctors do get attracted and oblige by attending the webinar if the title/topic is good and provocative. However, the "annoyance" should not outweigh "engagement"
Even social media posts have half-life. A tweet's t½ is approx. 24 minutes vs 90 minutes for a Facebook. For Facebook, a post reaches 75% of its potential engagement in 5 hours. A median tweet reaches this 75% mark in less than 3 hours.
The trend of attending doctors by the time you read this would have been low coming on webinars and you would see a rise of annoyance among them soon. No one can predict at this time on how the COVID19 will allow us to ease out or how long the residual effects will continue.
Denial of the past, the desire of the moment, the basic necessity of the future – That's Digitization
The advent of COVID19 has literally forced the pharma marketers in India to deniably embrace options in digitization. Many are wondering or even repenting or not having been prepared in the past when they had the time and are now scrambling to stand out. In the assumptions based on my experiences, there will be a clash among people in pharmaceutical teams with two schools of thoughts.
1. Adopt the new normal with digital and integrate with the traditional functioning.
2. Adopt the new "normal" calling it a new "temporary abnormal phase" and wait to get back to the traditional ways of working.
In any case, the basic principles of marketing will never change. Our thought process should be firm on the marketing principles and the data on digital behaviour should be able to help us set objectives.
So here are the 5 Cs which I feel will be the added roles to a pharmaceutical marketer when it comes to the new normal. My take on these 5Cs are purely based on what was/is happening right now and what might be happening in future. We as marketers here need to set clear objectives on digital interventions like Why to go digital and objectives? / Whom will I target & why? / What shift is seen in consumer sensitivity?
As experts predict the world will again have new BC (Before Covid) and AD (After Digitization).
1. CORRECT YOUR CONTENT
More than 95% of the content in pharmaceutical marketing in India that a company till now generated was limited to visual aids, monographs, literature mainly followed by a few AV films and physical webinars. Content consumption in BC was more in the closed cabin of a doctor. Being optimistic, you will agree that the readership of a new product monograph was far less than 20-30% for new products. "Me-too" or older brands were more dependent on one to one sale or reminder as a pillar of promotion.
If we now shift the same content on digital, we have a gamut of possibilities. Firstly, moving to digital doesn't mean to just upload the PDF format of monograph or literature or visual aid with some stupid animation on website/microsite.
The threshold of annoyance among the public is reducing. It's evident from ads you see on social media which moved from 30 seconds to 10 and now running 5-6 seconds ads when you watch a video.
Content actually can be anything from Blogging, Video, Podcasting, Infographics, Email, Visual content, EBooks, Slide share presentations, Quizzes/tools, Checklists, Courses, Webinars, Slide decks, Social media posts & influencer marketing/surrogate representation are some of the forms of CONTENT on digital.
Sharing an example, I am sure you have good loaded content in the form of a product monograph in text format or a good patient education literature content ready. Instead of just uploading, you can make it interactive (with KEYWORD configuration) by converting the monograph content in artificial intelligence (AI) based chatbots/other interactive voice modulated reply platforms. The user experience will matter it all.
As pharma marketers, we will have a new role in developing engaging content with a task to build a brand identity. This will involve developing content strategies, disseminating apt content on the brand through evidence-based medicine, give a quick update of new studies around your brand without wasting doctors time. The content can be in any form explained above. Having said this, I am borrowing a Google data that says India became the world's 1st - Video 1st consuming country in the world. Indians love videos thus translates us for an opportunity to develop video-based (along with text) content. If amalgamated well, we can have more conversation and engagement. The same as well be interactive content for patient education in a storytelling form which invites the reader to relate and take positive action to consulting a doctor.
2. CUT THE INCORRECT
Try a small exercise yourself. Whatever brand you handle, google it or search the brand name as a keyword on YouTube/FB/Twitter etc. There is a fair chance of your brand having some sort of an overly positive or negative presence in the form of video or tweet or a FB post.
Naturally, a practising healthcare professional who's voice share has credibility will never endorse any brand publicly. You may even find that some of your brands having a detailed review posted in some form by an absolutely unqualified person like sales guy of a chemist or even a 2nd-year pharmacy student. More so, it would have got hundreds or thousands of views as well. When we know 95% of consumers do not go beyond the first page of Google search, imagine what would a random genuine patient or a caregiver think if he gets to see the c**p content related to your brands. A doctor is spending additional time justifying his knowledge better than google.
So, the new role here for any marketer will be to steer the correct content so much & so accurate that it supersedes the c**p associated with your brand online. There are ways to pull down the wrong content from the internet is a separate topic altogether.
3. CAUSE & CONTEXT
In general, brand-related conversions are the building blocks of brand image.
One of my favourite examples to quote for this is "Surf". Many years back they ran a very successful campaign of a washing powder variant which didn't give much lather contradicting the Indian mindset of "Lather = Cleaning". From insights in wastage of water during washing clothes, they ran a whole new campaign diverting the minds to save water. By saying the new variant will take only two buckets of water and yet washes all clothes.
The lather was forgotten. The brand message was well accepted.
Now that was a "cause and context" associated with a brand and this is a necessary ingredient in our digital plan for our brands. A brand for asthma instead focusing on medical benefits, directly spoke of overall tension-free lifestyle which is a concern to the asthma patient. All people (be it doctors, patients, chemists or your own team) love cause and context. It's here you can drive a strong story in the brand messaging. This also is a good strategy to look for me-too brands in your portfolio.
India adds 10 million (1 Cr), active smartphone users, every month (with currently more than 400 million smartphone user exists)
The conversations on digital happen only in 3 emotions, namely FEAR, ANGER, or HOPE. You can check this and ponder upon. A famous brand of chocolate with worms or chemicals in a cold-drink brand are all associated with FEAR and ANGER. A good viral commercial during Diwali or Ramzan going viral has an element of HOPE. Sorting an angry customer's problem in our pharma brand is the simplest example. I want you to think more deeply in the cause and context setting to content you develop. It will be the backbone of the sustenance of your content online and will carry a "viralability" factor as well.
4. CONTROLLED AND CONSISTENT SEOs
We already know, as much as 95% of Google users do not move beyond the first page of search results. Now you have created good engaging content, you have curated it, you have added good cause and context and also you update it timely for digital presence.
What if your work doesn't show up as first 10 results in google search?
The main aim of the search engine optimization (SEO) is to get more traffic from diverse sources and to get repetitive visitors. SEO plays a crucial role in online business websites as well as other interactive sites. They have a role in developing good content using specific KEY WORDs or CLOUD WORDs which you closely associate with your brands/services. As a pharma brand manager, you may be intending to associate an indication or wanting to own a therapy segment or capture the doctors mind to strongly associate your brand vis-a-viz an indication.
Every minute, 3.8 crore messages on WhatsApp are sent and Google answer 37 lakh searches across the world.
SEOs play a vital role. A word of caution here is a week or a month of SEO integration won't give you any results. SEO should be consistent throughout the year to instigate brand-related conversations that enhance awareness. SEO goes hand-in-glove planning with content development. The new role would also be related to how well you enhance the SEO drives.
5. CRISIS PLUGINS
Coming to the last C but the newest one for pharma brand managers. I was checking some famous brands during the lockdown on twitter. All the 7 random pharma brands I chose to search had twitter traces. 6 of these brands featured with a hashtag (#) in more than half a dozen tweets for each from random patients with a photo of a prescription or statement requesting someone to help them procure medicines.
The world will again have new BC and AD.
Before Covid & After Digitization
Apart from availability, variety of queries and raised. Be it on "efficacy" or "comparison" or even discounted prices. While pharmaceutical companies have long been the target of public mistrust and negative media attention the links and miscommunication loops were hidden entrenched. With the majority of the industry embracing the social media & digital platforms, there is a fair chance of negative flares cropping up.
Why? Because the content that used to be in bags of medical representatives in the form of visual aid or literature will now be in public domain. Brand pages, social media handles and pages will surely be created. Earlier, where a pharmaceutical company used to be a faceless organization for a patient will now get touchpoints.
As we all know a satisfied customer is the best advertiser, in the digital world its reverse. A dissatisfied customer can negatively impact the brand 10X level with bad reviews. Many of pharmaceutical clients who are on digital some way desire to disable the comment section to avoid negative comments as mentioned by a digital expert recently.
As pharma marketers, when we want to use digital media outreach to a large number of doctor but not ready to listen to the voice of the customer is a "suicidal" behaviour. I would rather call it -an opportunity to build brand sensitivity. Several e-retail researches show that more than 3 negative reviews/traces on a brand is enough for a potential customer to not buy it. These will surely invite to a lot of unexpected crisis of various contexts for pharmaceutical as well.
Marketers need to carryout crisis plug-ins in such situations. Crisis, I don't denote here as a problem per se. But it's an important alert point to reach out to the customer. For one important reason is that in Crisis, people forget fast but they remember how the company reacted or they were attended to.
Marketers/brand managers need to learn the art of crisis plugins and be ready that unlike earlier times, it won't be once in a blue moon complaint mail from a consumer is received. Possible, that you may get queries daily for help or distress. Marketers should understand that "Crisis Plugins" is a brilliant opportunity to strengthen a brand image.
The author is a pharma marketing expert and is currently working as General Manager Corporate Strategy at a leading pharmaceutical company in India. Twitter handle - @pawankulkarni
Disclaimer: The views expressed in the above article are solely those of the author in his private capacity and DO NOT represent the views of Medical Dialogues or a corporate house.