Efforts to eliminate measles rubella by 2020: Health Ministry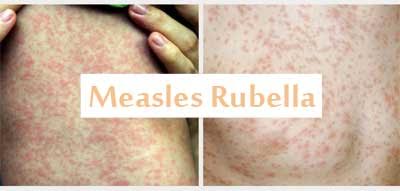 Accelerating efforts to eliminate measles and control rubella, the Ministry of Health and Family Welfare, convened a meeting of an Expert Advisory Group to recommend strategies to end the scourge of these killer and debilitating diseases by 2020.
"The Government of India will take every possible measure to ensure that children and families do not suffer from the devastating effects of measles and rubella. We have made India Polio free and are committed to eliminating measles and controlling rubella, while also protecting children against all other vaccine preventable diseases, Mr C K Mishra, Secretary, Ministry of Health & Family Welfare, said.
The expert advisory group on measles and rubella, congratulated India for its efforts so far and, especially for launching the Measles and Rubella campaign earlier this month. It recommended timely roll out of the remaining phases of the MR campaign, besides further stepping up surveillance and strengthening the reach of the measles-rubella vaccination campaign, to maximize the gains made so far, and make progress in the fight against measles and rubella.
"India's measles and rubella vaccination campaign is a truly remarkable, world-beating effort, with 41 crore children expected to be covered across the country in the next two years. Apart from improving the life-chances of crores of children in India, the campaign will have a substantial effect on global measles mortality and rubella control targets.," Dr Poonam Khetrapal Singh, Regional Director for WHO in South-East Asia said.
India has made important gains in recent years. Measles deaths have declined by 51% from an estimated 100,000 in the year 2000 to 49 000 in 2015. This has been possible by significantly increasing the reach of the first dose of measles vaccine, given at the age of nine months under routine immunization programme, from 56% in 2000 to 87% in 2015. In 2010 India introduced the second dose of measles-containing vaccine in routine immunization programme to close the immunity gap and accelerate measles elimination. Nearly 11.8 crore children aged nine months to 10 years were vaccinated during mass measles vaccination campaigns between 2010 and 2013 in select states of the country. During the recent annual Union Budget presentation, the government reiterated its commitment to measles elimination.
Dr T Jacob John, Co-Chair of the expert advisory group on measles and rubella to the Government of India, said, "measles elimination and rubella control is possible. The MR vaccine is safe and effective. We have tried and tested strategies that are proven to be effective in eliminating measles and controlling rubella. Rigorous implementation of these strategies is needed for India to achieve the 2020 target."
Measles is one of the major causes of death in children and the public health importance of rubella is due to congenital rubella syndrome (CRS), which occurs when rubella infection occurs in the first trimester of pregnancy. CRS is characterized by severe irreversible birth defects affecting the eyes (glaucoma, cataract), ears (hearing loss), brain (microcephaly, mental retardation) and heart.
In 2015, the National Technical Advisory Group on Immunization recommended introduction of rubella vaccine as combined measles-rubella vaccine, as a nation-wide campaign, covering children in the age group of 9 months to less than 15 years age group. After the campaign, MR vaccine is scheduled to be introduced in routine immunization, replacing the currently given two doses of measles vaccine.
The ongoing MR campaign in five states – Tamil Nadu, Karnataka, Goa, Puducherry & Lakshadweep, to vaccinate 3.48 crore children, has till date, reached 1.16 crore children.