Mepolizumab May Benefits Patients with Chronic Rhinosinusitis With Nasal Polyps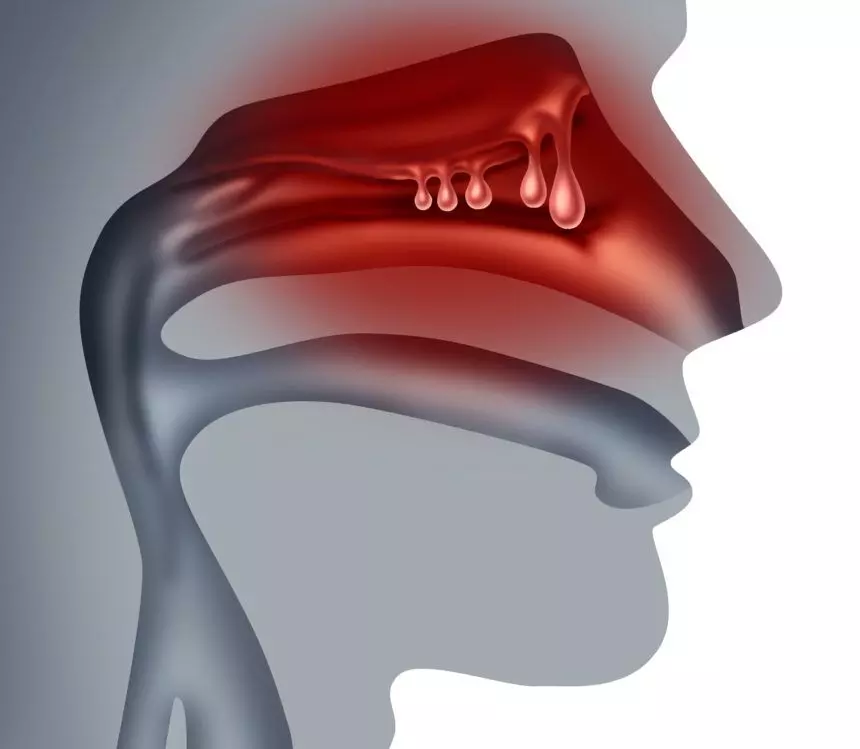 Mepolizumab improves symptoms in Chronic Rhinosinusitis with Nasal Polyps (CRSwNP), suggests a study published in THE JOURNAL OF Allergy AND Clinical Immunology on February 01, 2021. The study findings were also presented at the American Academy of Allergy, Asthma & Immunology (AAAAI) Virtual Annual Meeting, held February 26 to March 1, 2021.

According to the study, mepolizumab improves nasal discharge, mucus in the throat, loss of smell, facial pain and overall symptoms.
Mepolizumab is an Immunoglobulin G 1 [IgG1], kappa humanized monoclonal antibody (mAB) that blocks human interleukin-5 (hIL-5) from binding to the interleukin-5 (IL-5) receptor complex expressed on the eosinophil cell surface and thus inhibits signalling. Neutralization of IL-5 with mepolizumab has been shown to reduce blood, sputum and tissue eosinophils. Hence, researchers of the GlaxoSmithKline (GSK) assumed that mepolizumab might be a treatment option in a number of eosinophilic diseases, including Nasal Polyps (NP). To test this hypothesis, they conducted a study to assess the efficacy of 4-weekly add-on mepolizumab 100 mg SC on patient-reported symptoms of Chronic Rhinosinusitis with Nasal Polyps (CRSwNP).
SYNAPSE (StudY in NAsal Polyps Patients to Assess the Safety and Efficacy of Mepolizumab) was a randomised, double-blind, placebo-controlled, multicentre, 52-week study of 407 adult patients with highly symptomatic CRSwNP uncontrolled by previous surgery, treated with intranasal corticosteroids. Researchers, on a daily basis, assessed the Nasal Obstruction, Nasal Discharge, Mucus in Throat, Loss of Smell, Facial Pain, Overall Symptoms VAS scores (0-100) and reported as 4-weekly means on 0-10 scale. They used blinded psychometric analyses by prior qualitative research in CRSwNP patients to determine a meaningful within-patient change for each VAS.
Key findings of the study were:
• After 52 weeks, researchers have found thresholds for meaningful change such as -3.0 for Nasal Obstruction, Mucus in Throat, Loss of Smell and -2.5 for Nasal Discharge, Facial Pain and Overall Symptoms.
• They also found the median change from baseline in VAS at weeks 49 to 52 and percentage of responders for mepolizumab and placebo were: Nasal Obstruction -4.41(60%), -0.82(36%); Nasal Discharge, -4.51(64%), -0.85(40%); Mucus in Throat, -4.21(57%), -0.97(36%) ; Loss of Smell, -0.53 (36%), 0.00 (19%); Facial Pain, -3.63(58%), -0.68(40%) Overall Symptoms, -4.48(64%), -0.90(40%).
• Besides, they noted that the loss of smell VAS demonstrated greater improvement for patients with one prior surgery with a median change from baseline of -1.87 for mepolizumab and -0.07 for placebo, while no difference vs placebo was noted in those with 2 or more prior surgeries.
The authors concluded, "Clinically and statistically significant improvements in symptoms were demonstrated with mepolizumab 100 mg SC compared to placebo. Improvement in sense of smell was related to prior history of NP surgery."
For further information:
https://www.jacionline.org/article/S0091-6749(20)32225-9/fulltext
Article Source :
THE JOURNAL OF Allergy AND Clinical Immunology