Air pollution and allergic rhinitis: Understanding the invisible, yet the inevitable connection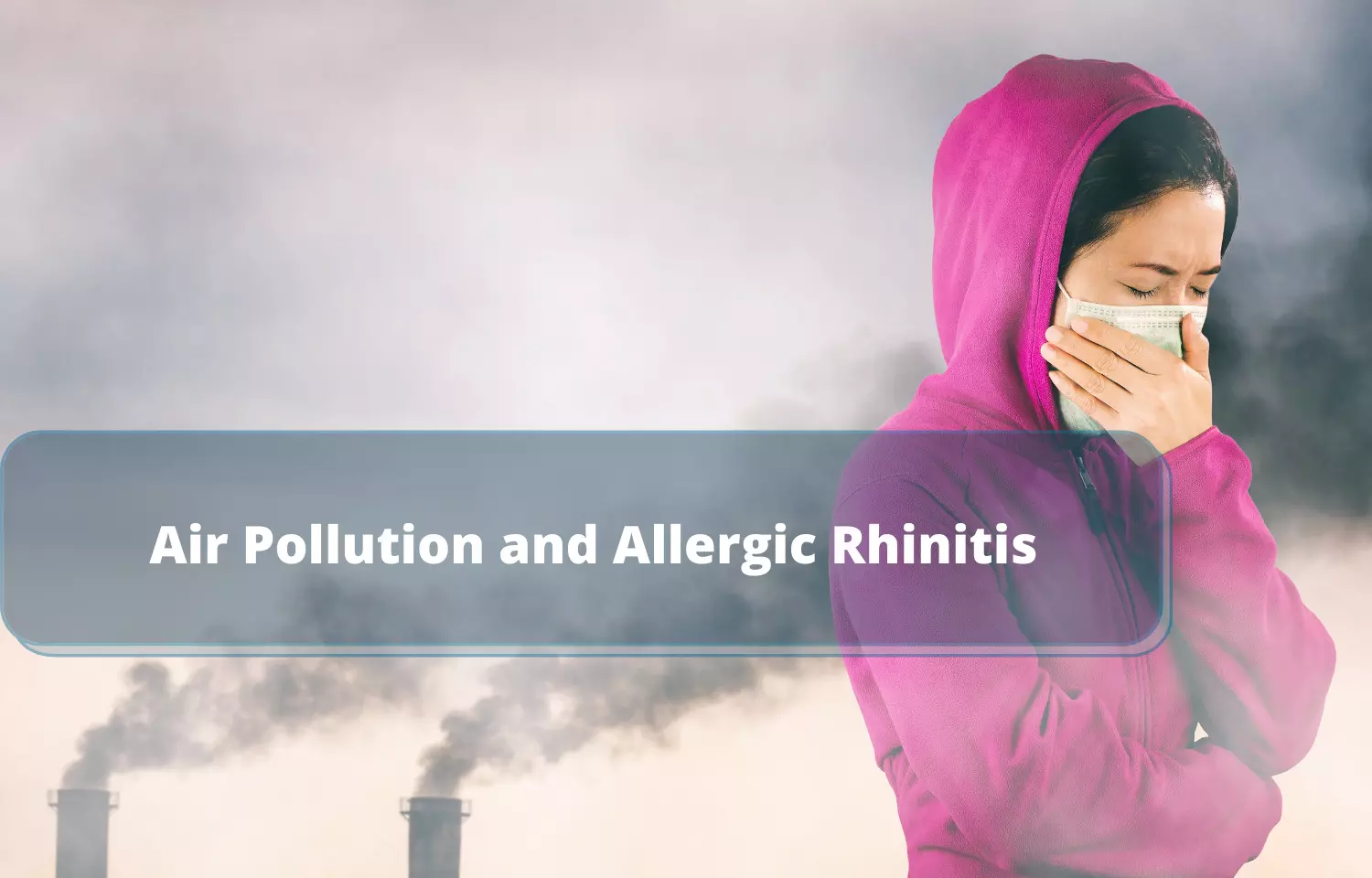 The spiking frequency of allergic respiratory illness over the last several decades, and the increasing rate of air pollution owing to urbanization, industrialization, and rapid economic expansion(1), have ignited the attention of the medical fraternity to look for any possible link between Allergic Rhinitis development and air pollution.
With statistics predicting that by 2050, 68% of the world's population will be living in urban areas(2), managing the pollution-associated allergic respiratory diseases poses a serious challenge.
Identifying the culprits: Commonly encountered air pollutants-Substances produced over permissible limits in ambient air are referred to as air pollution (AP). Usually, solid (particulate), liquid, and gaseous emissions like NO2, NO, SO2, CO, and CO2, and airborne PM from traffic diesel exhaust particles (DEP), can contribute to chemical air pollution. These pollutants can be classed as indoor or outdoor, primary (if directly emitted into the atmosphere), or secondary pollutants, depending on their source and derivation. (3)
Aeroallergens, which are regarded to be a crucial contributor to indoor or outdoor atopic disorders such as allergic rhinitis (AR) and asthma, are considered part of biological air pollution. (3)
It has been documented that AR and asthma are IgE-mediated type 1 hypersensitivity diseases that can be caused by a variety of air pollutants as well as environmental allergens. (1)Moreover, a growing body of research now links exacerbation of AR and asthma to increased levels of air pollutants. (3) Despite such clear associations, the underlying mechanisms remain vague.
Considering such scenarios, this article aims to review and summarise the current understanding of the role of air pollution in both symptom aggravation and increased incidence of allergic rhinitis (AR).
Air pollution and allergy-How are they linked?

Outdoor pollutants pose a major health concern with evidence revealing that extra-thoracic (nose and neck) deposition results from Particulate Matter(PM) with a diameter of 2.5 mm to 10 mm, whereas inhaled PM with a diameter of less than 2.5 mm is deposited in the lung. (3)
Ground-level ozone(O3) is one of the most harmful air pollutants to humans and ecosystems. Formed in the presence of sunlight from precursors such as nitrogen oxides (automobile exhaust) and volatile organic compounds (VOCs), AR, asthma, and atopic dermatitis have all been linked to the ambient ozone. (3)
In major research conducted between 1997 and 2006, a drop in nitrogen dioxide, carbon monoxide, and outdoor particulate matter was associated with a decrease in the yearly prevalence of AR.(3)
Ample studies highlight that pollutants in the environment irritate the nasal mucosa, causing the production of inflammatory mediators and increased nasal hyperreactivity, which is similar to the symptoms of atopic illnesses like AR.(3)
At the cellular level, ozone can cause the release of cytokines and arachidonic acid metabolites such as cyclooxygenase and lipoxygenase derivatives from the epithelial cellular membrane. Furthermore, ozone can reduce mucociliary clearance and free radical generation indirectly.
Such mechanisms, if not controlled optimally, ultimately lead to seasonal allergic rhinitis or may aggravate an existing condition towards asthma. (3)
Common indoor objects and surfaces that can contain allergens and cause indoor allergies include dust mites, molds, and pet dander. (3)

United States Environmental Protection Agency (EPA)recommends that home ventilation is vital for reducing indoor air pollutants by circulating air between the outside and interior residences. It should be done regularly, several times throughout the day for up to 10 minutes each time. (3)
Exposure to air pollution and the impact on allergic rhinitis- A look into the underlying mechanisms:

1. Mechanism of IgE mediated hypersensitivity-Atopic patients acquire particular IgE antibodies in response to allergen exposure, which is seen on mast cell surfaces as well as other cells. Re-exposure to allergens causes mucosal mast cells to release histamine, arachidonic acid metabolites, and other vasoactive and inflammatory mediators, resulting in itching, sneezing, nasal discharge, and vascular congestion in a sensitive individual.

Following the acute response, an inflammatory response develops, resulting in late-phase symptoms that appear over several hours. Repeated exposures cause tissue inflammation that can continue for days. (3)
2. Mechanism of oxidative stress in allergic individuals-When compared to a healthy population, allergic individuals can have varied reactions to contaminants.
Pollutant challenge causes larger increases in neutrophil and eosinophil numbers in allergic asthmatics than in non-allergic asthmatics in the lower airways, according to research.
Data suggest environmental pollutants can act synergistically with allergens to enhance allergic response in atopic individuals(3)
3. Neurogenic-mediated mechanism-Rhinitis can be triggered by environmental pollutants through a neurogenic process. (3)
A local axon reflex, a central autonomic reflex, mast cell degranulation, or epithelial cell activation may all play a role in this neurogenic process of environmental rhinitis. Rhinorrhea, nasal blockage, sneezing, coughing, and laryngospasm are commonly associated symptoms of such neurogenic pathways.
4. Immuno-modulation-The immuno-modulatory effects of air pollutants on respiratory diseases include neutrophil and eosinophil recruitment at the mucosal airway barrier, nonspecific airway reactivity, increased IL-33 expression,DAMP secretion that activates and boosts the innate immune system response, increased IL-1b and decreased IL-10 production, and enhanced response to inhaled allergens and primary allergy sensitization. (3)
Study highlights-

Numerous studies to date have demonstrated the impact of pollution on rhinitis in the upper airways.
In a major epidemiological study from Brazil, children living in polluted areas reported a higher frequency of rhinitis than those living in non-polluted areas (7 percent versus 4 percent ). (3)
In another study, inflammation and respiratory symptoms were significantly elevated in sanitation employees exposed to pollution as compared to controls. (3)
Climate change (81.1%) and pollution (51.2%) were cited by the majority of participants in an 11-country study as the major contributing factors to their allergic rhinitis symptoms (4). Another survey across Europe found that 71.15 percent of respondents blamed the rise in allergic rhinitis on "greater exposure to allergens, irritants, and pollution" (5).
Hauser et al highlighted a 143% and 130% enhancement of nasal lavage leukocytes and neutrophils, respectively, in atopic patients, when exposed to allergens. (1)
Yet another recent study found that air pollution (particularly ozone) had a negative impact on allergic rhinitis management, particularly during the grass pollen season. Air pollutants (ozone and PM2.5) were found to have a positive relationship with allergic rhinitis symptoms. (6)
Managing the menace: Steps to control Allergic Rhinitis due to air pollution -

The first line of therapy is avoidance of air pollutants and minimizing allergen exposure as much as possible. (1)
Second-line treatments include nasal decongestants, cromolyn, H1 antihistamines, leukotriene receptor antagonists, and allergen immunotherapy. (1)
In this regard, Fexofenadine hydrochloride, a second-generation antihistamine that is used orally and is non-sedating has shown promising results.
In a breakthrough study, titled FEXOPOLSAR study, researchers have confirmed that 180 mg dosage of this drug relieves AR symptoms in pollution-exacerbated adult rhinitis patients, by 21%.(1,6)
Key -pointers-

Millions of individuals throughout the world suffer from allergic rhinitis, which harms their quality of life.
Air pollution not only causes illness but also kills almost millions of people each year. In addition, research highlights that allergic rhinitis and air pollution are interlinked.
Treatment for allergic rhinitis exacerbated by air pollution consists of treating allergic rhinitis according to guidelines while limiting pollution exposure.
Fexofenadine hydrochloride has shown promising results in controlling pollution aggravated AR.
The way forward-
A striking rise in the incidence of allergic diseases has been noted in the last decades. More alarmingly, climate variables and increasing air pollution seem to exacerbate the symptoms and severity of allergy disorders.
Identifying the specific environmental exposures and their biological effects remains the greatest challenge for the medical fraternity. It's critical to understand how these environmental factors influence allergy development and the severity of current disease to devise effective management strategies.
References

1. Li, C. H., Sayeau, K., & Ellis, A. K. (2020). Air pollution and allergic rhinitis: role in symptom exacerbation and strategies for management. Journal of Asthma and Allergy, 13, 285.
2. Nations U. 2018 Revision of World Urbanization Prospects. United Nations: New York; 2018.
3. Naclerio et al. International expert consensus on the management of allergic rhinitis (AR) aggravated by air pollutants: Impact of air pollution on patients with AR: Current knowledge and future strategies. World Allergy Organization Journal (2020) 13:100106 http://doi.org/10.1016/j.waojou.2020.100106
4. Baena-Cagnani CE, Canonica GW, Zaky Helal M, et al. The international survey on the management of allergic rhinitis by physicians and patients (ISMAR). World Allergy Organ J 2015; 8: 10.
5. Passali D, Cingi C, Staffa P, et al. The International Study of the Allergic Rhinitis Survey: outcomes from 4 geographical regions. Asia Pac Allergy 2018; 8: e7.
6. Ellis AK, Murrieta-Aguttes M, Furey S, et al. Effect of fexofenadine hydrochloride on allergic rhinitis aggravated by air pollutants. ERJ Open Res 2021; 7: 00806-2020[https://doi.org/10.1183/23120541.00806-2020. Dr Kamal Kant Kohli-MBBS, DTCD- a chest specialist with more than 30 years of practice and a flair for writing clinical articles, Dr Kamal Kant Kohli joined Medical Dialogues as an Editor-in-Chief for the Speciality Medical Dialogues section. Besides writing articles, as an editor, he proofreads and verifies all the medical content published on Medical Dialogues including those coming from journals, studies,medical conferences,guidelines etc. Before Joining Medical Dialogues, he has served at important positions in the medical industry in India including as the Hony. Secretary of the Delhi Medical Association as well as the chairman of Anti-Quackery Committee in Delhi and worked with other Medical Councils in India. Email: editorial@medicaldialogues.in. Contact no. 011-43720751