Managing Atopic Diseases across Age Group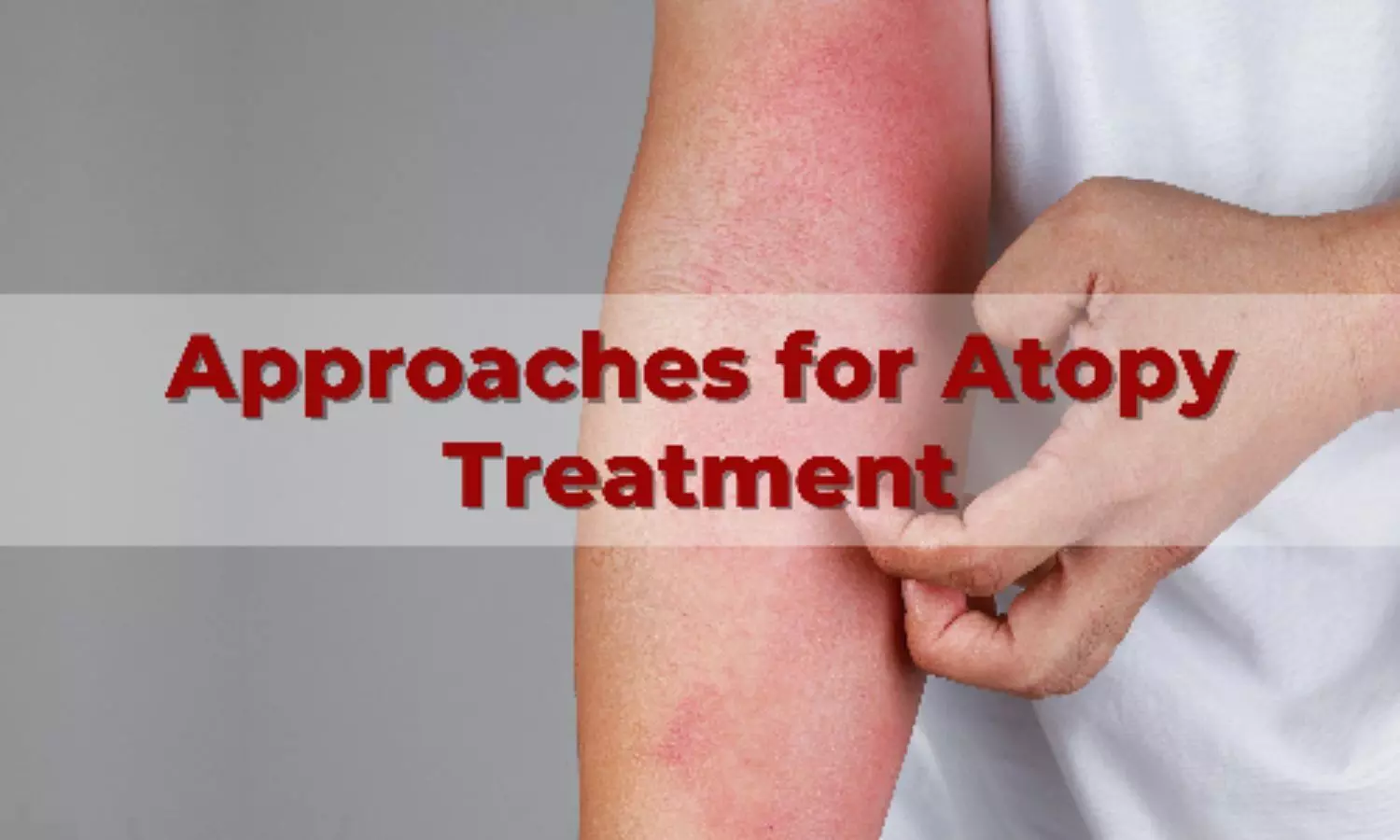 Atopy is a genetic tendency to produce high IgE antibodies in response to common allergens, which increases the risk of developing atopic illnesses like atopic dermatitis, asthma, and allergic rhinitis. It may also lead to food allergies and can manifest as sensitivity to allergens without symptoms. (1)

Atopic Diseases: Prevalence, Global Burden & Types
The incidence and prevalence of atopic diseases have risen in the last decade, affecting 15-20% of children and 1-3% of adults. The International Study of Asthma and Allergies in Childhood (ISAAC) has reported data on the incidence and trends of atopic diseases in India, which ranges from 0.9% to 22.5% in 6-7-year-old children. (2)
Recent evidence from Global Asthma Network observed that over 30 million people in India have asthma, often with poorly controlled disease. High levels of indoor and outdoor air pollution exacerbate allergic diseases in India. There is a high rate of IgE sensitization to foods with low incidence rates of food allergy (3)
Among different atopic diseases, studies have revealed that atopic dermatitis affects 10 % of children and 2-10% of adults (4), while asthma is known to affect 15-20% of people in developed countries and 2-4% in less developed countries (5). Allergic rhinitis has a higher incidence in young people, with a prevalence of over 5% at age 3, increasing to 14.6% in individuals aged 13-14 years and 30% in those aged 17-29. The lowest prevalence is seen in those over 60 years old. (6) Food allergies affect around 6% of children in their first three years of life, with cow's milk allergy affecting 2.5%, egg allergy affecting 1.5%, and peanut allergy affecting 1%. (7)
The Allergy Cascade: A vicious cycle-

The pathophysiology of atopic diseases involves an overactive immune response to harmless allergens that leads to inflammation and tissue damage. The response is further driven by T helper 2 cells producing cytokines like Interleukins (IL-4, IL-5, and IL-13), release mediators such as histamine, leukotrienes, and prostaglandins-causing symptoms like itching, redness, swelling, and mucus production. This creates a vicious cycle, as the inflammation causes an increased allergen sensitization and further activation of the immune system. (4)
Pharmacological Approaches for Atopy Treatment

The treatment of atopic diseases has primarily focused on interrupting the inflammatory cascade by blocking the actions of chemicals released by the allergic response in the epithelium. (8)
Antihistamines are among the key drugs to treat atopic diseases, such as atopic dermatitis, allergic rhinitis, and urticaria, due to their ability to block the action of histamine. (9)
Antihistamines effectively relieve these symptoms, making them the preferred first-line treatment for many patients. Additionally, newer-generation antihistamines are generally well-tolerated and available in various dosage forms, including oral, topical, and nasal formulations, providing flexibility in treatment options. (9)
Furthermore, certain second-generation antihistamines have additional properties, such as anti-inflammatory effects, that may enhance their effectiveness in treating atopic diseases. (9)
Topical corticosteroids are another possible treatment choice in atopy due to their strong anti-inflammatory capacity. Corticosteroids reduce cytokine and chemokine release and reduce inflammatory cell infiltration of the mucosa, therefore playing an essential role in disease management. Leukotriene receptor antagonists (LTRAs), mainly montelukast, provide additional control of inflammation and be effective treatments in asthma and allergic rhinitis. (8)
Role of Fexofenadine: Understanding its role in Allergy Treatment
Fexofenadine, a second-generation antihistamine, is widely used for allergic disorders owing to its inflammatory properties. (10) Fexofenadine has shown its effectiveness amongst different age groups- pediatric, adolescents, and adults. (11)
Fexofenadine as a stand-out antihistamine in managing allergies-
Fexofenadine is highly specific for H1 receptors but does not bind in the brain's cortex, making it one of the least sedating second-generation antihistamines. (11) Fexofenadine has limited binding to cholinergic and alpha-adrenergic receptors, resulting in minimal anticholinergic effects. It inhibits the release of mast cells, basophilic histamine, and inflammatory cells and its long-term use does not result in tachyphylaxis. (12)
Fexofenadine has an impact on reducing inflammation-causing agents. (12) Fexofenadine reduces levels of inflammatory mediators and decreases cytokine expression, including Intercellular adhesion molecule-1, endothelial leukocyte adhesion molecule 1, and others. It also limits the generation of thromboxane and impairs eosinophil adherence and chemotaxis. Fexofenadine effectively controls acute allergic reaction-triggered inflammatory responses. (10)
Studies elaborating the efficacy of Fexofenadine for Atopic Diseases-
Bronsky et al. conducted a study on 550 individuals with seasonal allergic rhinitis who had previously responded to other antihistamines. The study lasted for 17 days, and the subjects were given doses of 40 mg, 60 mg, or 120 mg of Fexofenadine twice daily. The study showed significant improvements in the total symptom score (nasal congestion; sneezing; rhinorrhea; itchy nose, palate, and throat; and itchy, watery, red eyes) within 1 to 3 hours after the first dose. (10)
A multi-centre study was conducted to assess the safety and efficacy of Fexofenadine in 861 subjects suffering from moderate to severe autumn allergy symptoms. The study subjects were administered 120 mg or 180 mg of Fexofenadine once daily. The medication significantly reduced the total symptom score (including nasal congestion) to 24 hours. (10)
A pooled analysis of three studies by Meltzer et al. evaluated the safety and efficacy of Fexofenadine in treating seasonal allergic rhinitis in children. The study analyzed data from three clinical trials that were double-blind, randomized, placebo-controlled, and parallel groups, involving children aged 6 to 11 years. One study used doses of 30 mg twice daily, while the other two studies used 15 or 60 mg twice daily. The study found that Fexofenadine at a dose of 30 mg twice daily effectively reduced symptoms of seasonal allergic rhinitis, such as total symptom score, sneezing, rhinorrhea, and nasal congestion. (10)
Approval and Dosage Recommendations for Fexofenadine-
Antihistamine is recommended as the first-line therapy for chronic urticaria recommended by the American College of Allergy Asthma and Immunology (ACAAI) and the American Academy of Allergy, Asthma & Immunology (AAAAI). The guideline favours the second generation due to the less evidence of impairment (sedation, impaired motor skills) as a class. (12)
Indian guidelines on Allergic Rhinitis recommend second-generation antihistamines, such as Fexofenadine, as the first-line treatment for allergic rhinitis due to their better safety profile with no clinically significant anticholinergic activity at therapeutic doses. (13)
It is available in various dosage forms and strengths depending on condition, age, and indication. (12)
The typical dose for adults for seasonal allergies and chronic urticaria is 60 mg taken twice or 180 mg once daily. For children, the dose varies from 30mg twice daily for 2-12-year-olds to 60 mg twice daily or 180 mg once daily for those over 12 years old. (12)
Key Pointers-
Fexofenadine is a second-generation antihistamine with a high specificity for H1 receptors and minimal anticholinergic activity.
Fexofenadine is safe and effective for adults and children in treating seasonal allergic rhinitis, chronic urticaria, atopic dermatitis, asthma, and food allergies.
The recommended dosage of Fexofenadine varies based on the age of the patient and the treatment indication.
References:
1. Thomsen SF. Epidemiology and natural history of atopic diseases. Eur Clin Respir J. 2015;2(1):24642. doi:10.3402/ecrj.v2.24642
2. Nutten S. Atopic dermatitis: global epidemiology and risk factors. Ann Nutr Metab. 2015;66 Suppl 1(Suppl. 1):8-16. doi:10.1159/000370220
3. Mahesh PA, Moitra S, Mabalirajan U, et al. Allergic diseases in India – Prevalence, risk factors, and current challenges. Clin Exp Allergy. 2022;00:1-19. doi: 10.1111/cea.14239
4. Kolb L, Ferrer-Bruker SJ. Atopic Dermatitis. StatPearls Publishing; 2022.
5. Hashmi MF, Tariq M, Cataletto ME. Asthma. StatPearls Publishing; 2022.
6. Bousquet J, Anto JM, Bachert C, et al. Allergic rhinitis. Nat Rev Dis Primers. 2020;6(1):95. doi:10.1038/s41572-020-00227-0
7.Lopez CM, Yarrarapu SNS, Mendez MD. Food Allergies. StatPearls Publishing; 2022
8. Kim H, Bouchard J, Renzi PM. The link between allergic rhinitis and asthma: a role for antileukotrienes? Can Respir J. 2008 Mar;15(2):91-8. doi: 10.1155/2008/416095. PMID: 18354749; PMCID: PMC2677841.
9. Farzam K, Sabir S, O'Rourke MC. Antihistamines. StatPearls Publishing; 2022
10. Axelrod D, Bielory L. Fexofenadine hydrochloride in the treatment of allergic disease: a review. J Asthma Allergy. 2008;1:19-29. doi:10.2147/jaa.s3092
11. Meltzer EO, Rosario NA, Van Bever H, Lucio L. Fexofenadine: review of safety, efficacy and unmet needs in children with allergic rhinitis. Allergy Asthma Clin Immunol. 2021;17(1):113. doi:10.1186/s13223-021-00614-6
12. Craun KL, Schury MP. Fexofenadine. StatPearls Publishing; 2022
13. Indian Guidelines on Allergic Rhinitis. Formulated by the Association of Otolaryngologists of India. 2021. http://www.aoiho.org/pdf/AOI%20AR%20Guidelines.pdf Dr Kamal Kant Kohli-MBBS, DTCD- a chest specialist with more than 30 years of practice and a flair for writing clinical articles, Dr Kamal Kant Kohli joined Medical Dialogues as a Chief Editor of Medical News. Besides writing articles, as an editor, he proofreads and verifies all the medical content published on Medical Dialogues including those coming from journals, studies,medical conferences,guidelines etc. Before Joining Medical Dialogues, he has served at important positions in the medical industry in India including as the Hony. Secretary of the Delhi Medical Association as well as the chairman of Anti-Quackery Committee in Delhi and worked with other Medical Councils in India. Email: editorial@medicaldialogues.in. Contact no. 011-43720751