Respiratory Allergic Affections: Management in India and Therapeutic Effect of Montelukast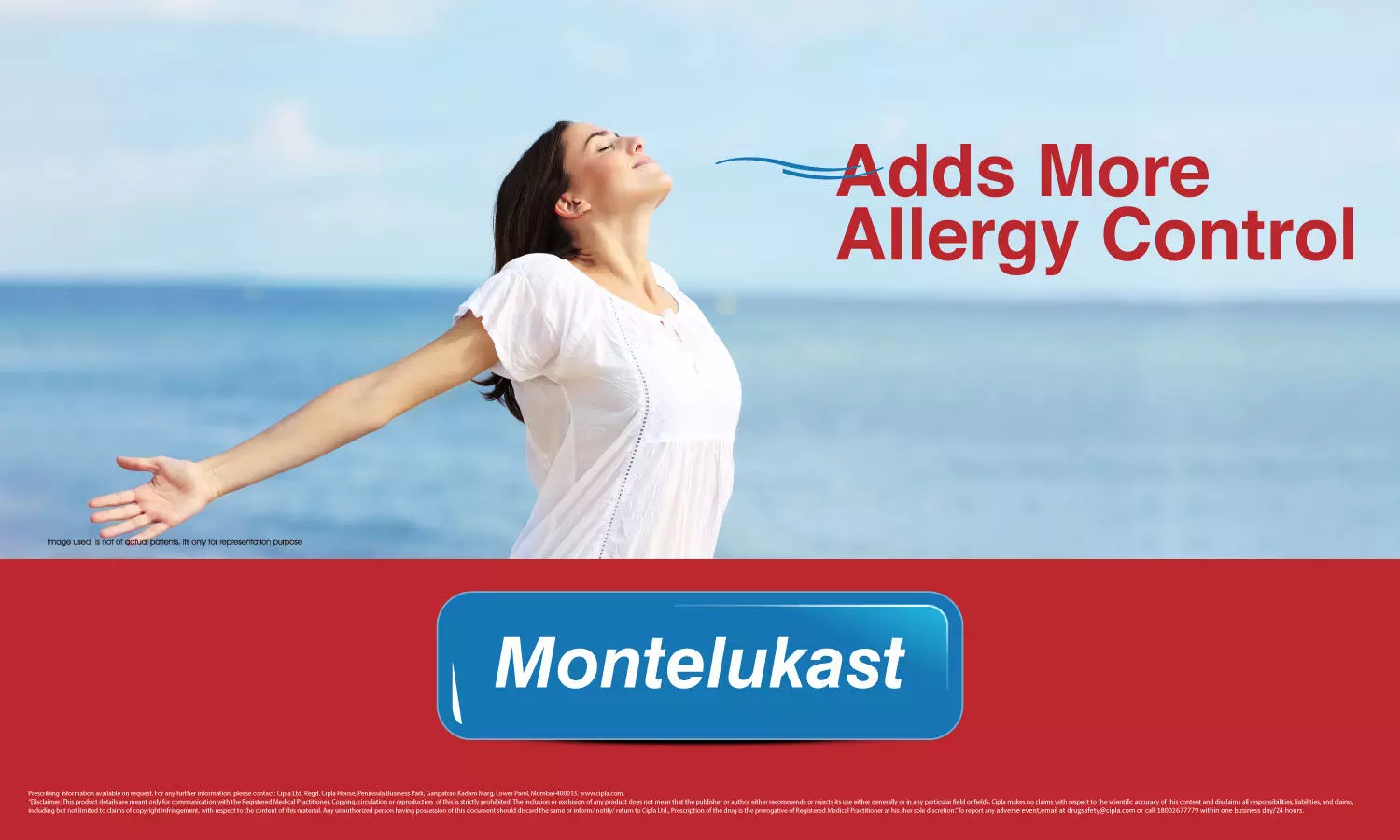 Allergic diseases have turned into a major health concern around the world, with India being no exemption. Purportedly, over 25% of the total population of India is sharpened to various types of allergens. Major sources of allergen in our subcontinent include pollen grains, fungal spores, foods, insects, and dust mites. The common manifestations of allergic affections among Indian patients include bronchial asthma, rhinitis, dermatitis, and urticaria. (1)

Seasonal Respiratory Allergies – Indian Perspective & Need for Early Care
Respiratory Allergies among Indian Children – Food Allergens are a Major Culprit: Anchu C et al, published a study to investigate the proportion of Indian children with asthma who have food-related respiratory symptoms and inferred that presumed food allergy is seen in one-fourth of children with asthma and significantly affects symptom control in them. The consumption of bananas was indicated as a major food allergen culprit (2). Other studies published by Indian authors Vishak KA et al, have reported the prevalence of food allergies among patients with rhino-bronchial allergy (RBA) and found its incidence to be surprisingly high as 41%, with multiple allergens being implicated in about 18% of these cases (3).
Allergic Rhinitis: The Neglected Issue & Why It's Not Good !! : In India, allergic rhinitis (AR) is considered to be a trivial disease, although symptoms of rhinitis were present in 75% of children and 80% of asthmatic adults in observational cohorts. The Allergic Rhinitis and its Impact on Asthma (ARIA) workshop report proposed that allergic rhinitis patients can be categorized as "intermittent" and "persistent" while severity could be classified as "mild" and "moderate-severe". Patients with AR, depending on their predominant symptom, can also be categorized as "sneezers-runners" and "blockers". Their clinical profile analysis indicated that "blockers" had significantly higher sinusitis and had higher sensitization to fungi. Skin allergy testing in Indian adults showed that in patients with AR, house dust mite (Dermatophagoides farinae) was the most common allergen. Studies conducted in India have shown that AR often restricts the patient's quality of life (QOL). It can affect the physical, psychological, and social aspects of the patients' life and can also impact their functions at work. Furthermore, AR adversely affects sleep-related QOL. (4)
Allergic Rhinitis and Bronchial Asthma Co-morbid: Need for Prompt Interventions: Sinha B, et al, in an observational cohort assessment among Indian adults (n=1200), reported the prevalence of allergic rhinitis was found to be 11%; and 33.3% among them also had asthma. It was noteworthy that more patients with rhinitis and asthma (75%) took treatment, relative to those without asthma (40%). It was insightfully understood that the burden of allergic rhinitis is high with significant co-association with asthma. It was thus specifically emphasized that these allergic diseases require early and regular pharmacological interventions. (5)
The objectives of management for allergic rhinitis (AR) incorporate rebuilding of nasal patency, control of nasal secretions, treatment of nasal complications connected with obstruction, and critically, the anticipation of recurrent symptoms. Allergen aversion, pharmacotherapy, and immunotherapy are as well included in the principles of management in selected patients with allergic rhinitis. (4)
Therapeutic Scope of Montelukast in Respiratory Allergies:

Oral therapy with leukotriene receptor antagonist, Montelukast, has widespread application for the real-life, day-to-day, anti-inflammatory management of major respiratory allergic affections - asthma and allergic rhinitis (AR). Montelukast is used in the treatment of both asthma and allergic rhinitis. Montelukast is included in asthma guidelines as an adjunctive anti-inflammatory therapy. (6)
Montelukast for Prevention of Upper Respiratory Tract Infections (URTI) in Children: Fatemeh et al, conducted a study to evaluate the preventive effects of montelukast on pediatric URTI. A randomized, placebo-controlled, and double-blind trial was performed, comprising 450 healthy children aged 1-5 years. Children were randomized 1:1 to a placebo group or montelukast group for 12 weeks.
The results of the study demonstrated that the mean URTI episode was 0.7 ± 0.57 in children treated with montelukast and 1.27 ± 0.72 in children treated with placebo, respectively; the differences being statistically significant (p =0.01). A significant difference was seen in URTI duration between the two study groups (6.3 ± vs 4.1 days, p = 0.05) in favor of montelukast. The frequency of fever was 63.5 % in the montelukast group and 86.8 % in the placebo group (p=0.001). There were also reduced occurrences of kindergarten absenteeism, and hospitalization occurrences in the montelukast treated group. It was thus concluded that 12 weeks of treatment with montelukast is effective for reducing the incidence of URTI in young children. (7)
Montelukast Improves Quality of Life when Added to Anti-histamine therapy: Ciebiada et al. published a study comparing the efficacy of Montelukast with or without antihistamine among patients with allergic rhinitis concluded that combining montelukast with an antihistamine significantly improved quality of life compared with using each agent alone. Patel et al. had clinically demonstrated that Montelukast reduced perennial allergic rhinitis symptoms during 6 weeks of treatment intervention. (9)
Ministry of Health & Family Welfare Govt. of India (MoH&FW-GoV) Guidelines in Otorhinolaryngology: The Ministry of Health & Family Welfare Govt. of India Standard Treatment Guidelines in Otorhinolaryngology have recommended the consideration of montelukast in Deviated Nasal Septum (DNS) – for the management of associated conditions causing a nasal obstruction which can be treated medically in outpatient settings. (10)
Clinical Summary

Respiratory allergic affections are a magnanimous burden in India (1). Allergic Rhinitis is often neglected by patients and perceived as less threatening in primary care settings. However, it is noteworthy that untreated and recurrent allergic rhinitis may have worsening implications heading towards asthma, poor quality of life, and declining pulmonary function over a period of time (4). Respiratory allergic affections call for early and regular pharmacological interventions (5). Montelukast is approved for prophylaxis and chronic treatment of asthma in patients older than 12 months. It has therapeutic utility for the relief of symptoms of seasonal and perennial allergic rhinitis. It could also be of clinical value in the management of exercise-induced bronchoconstriction (EIB) (11).
Reference:
1. Bhattacharya, K., Sircar, G., Dasgupta, A., & Gupta Bhattacharya, S. Spectrum of Allergens and Allergen Biology in India.2018. International archives of allergy and immunology
2. Cherian AA, Lakshminarasappa DS, Chandrasekaran V, Chinnakali P. Food allergy in children with asthma and its correlation with level of asthma control. 2022. Health Sci Rep.
3. K. A. Vishak and R. C. Saho, Food and Respiratory Allergies in South India: An Overview. 2008. American Chemical Society Symposium Series
4. Shah A, Pawankar R. Allergic rhinitis and co-morbid asthma: perspective from India -- ARIA Asia-Pacific Workshop report. 2009. Asian Pac J Allergy Immunol.
5. Sinha B; Vibha, Singla R, Chowdhury R. Allergic Rhinitis: A neglected disease - A community based assessment among adults in Delhi. 2015. J Postgrad Med.
6. Helen Neighbour. Montelukast in the treatment of asthma and allergic rhinitis. 2013. Clin. Pract.
7. Fatemeh Dorreh,Mohammad Hasan Esmaili, Parsa Yousefhajian, Mahdieh Naziri, Aziz Eghbali, Bahador Bagheri. Efficacy of Montelukast for Prevention of Upper Respiratory Tract.Infection in Children: A Randomized, Placebo-Controlled Trial. 2020. Pharmaceutical Sciences.
8. Ciebiada M, Ciebiada MG, Kmiecik T, DuBuske LM, Gorski P. Quality of life in patients with persistent allergic rhinitis treated with montelukast alone or in combination with levocetirizine or desloratadine.2008. J. Investig. Allergol. Clin. Immunol.
9. Patel, P., Philip, G., Yang, W., Call, R., Horak, F., LaForce, et.al. Randomized, double-blind, placebo-controlled study of montelukast for treating perennial allergic rhinitis. 2005. Annals of allergy, asthma & immunology : official publication of the American College of Allergy, Asthma, & Immunology.
10. Hans J M.Standard Treatment Guidelines Otorhinolaryngology (Ent).2020. Ministry of Health & Family Welfare Govt. of India
11. Singulair (Montelukast Sodium) Innovator Prescribing Information.2021. Merck.com Dr Kamal Kant Kohli-MBBS, DTCD- a chest specialist with more than 30 years of practice and a flair for writing clinical articles, Dr Kamal Kant Kohli joined Medical Dialogues as a Chief Editor of Medical News. Besides writing articles, as an editor, he proofreads and verifies all the medical content published on Medical Dialogues including those coming from journals, studies,medical conferences,guidelines etc. Before Joining Medical Dialogues, he has served at important positions in the medical industry in India including as the Hony. Secretary of the Delhi Medical Association as well as the chairman of Anti-Quackery Committee in Delhi and worked with other Medical Councils in India. Email: editorial@medicaldialogues.in. Contact no. 011-43720751