Four dialysis machines installed in Udhampur hospital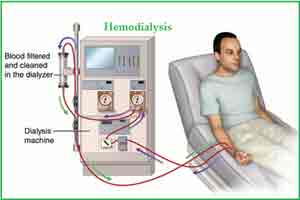 Udhampur: In a bid to provide quality services in government hospitals, the health department has installed four dialysis machines at District Hospital in Jammu and Kashmir's Udhampur district under Pradhan Mantri National Dialysis Programme.
 Udhampur has become the first district in the state to have four dialysis machines in its hospital.


Dialysis machine filters a patient's blood to remove excess water and waste products when the kidneys are damaged, dysfunctional, or missing. It can also be used as an artificial kidney.

Earlier, due to the non availability of said machine in the District Hospital, Udhampur, the patients have to go outside for the dialysis.

Now the patients from Doda, Ramban and Reasi district can also avail the dialysis process in the District Hospital, Udhampur.

The locals hailed the Prime Minister Narendra Modi for launching said Programme for the welfare of the common masses.