Four Youth Held for Assaulting, threatening Doctors at Govt hospital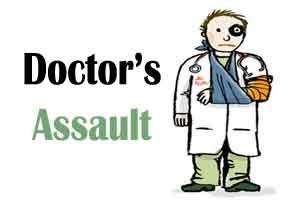 Raipur: In yet another assault incident at a state-run hospital, four youth have been arrested for assaulting and threatening doctors following an altercation with the medical staff.
They were arrested for beating up doctors at the Bhimrao Ambedkar Government Hospital on Monday after their friend, who had come there for treatment, had a spat with the medical staff, police confirmed to IANS.
As per a statement made by one of the doctors who was attacked during the incident, the patient Neeraj Buksare, came for treatment of an injury in his left arm. Noticing the condition, the doctor advised the injured to undergo arm X-ray and get proper bandage applied. Instead of complying with instructions of attending doctor, the patient and his associates entered into an argument with the doctor.
Following the spat, the youths blurted abuses at the doctor and accused him of misguiding them.
Shortly, other doctors intervened to calm down the situation, but the attackers picked up chairs and assaulted the doctors. They also took photographs of the doctors saying, "Now, we have your photographs. As you come out, we will stab all of you."
Subsequent  to the incident, the doctors filed a case, further to which the police nabbed and arrested the four youth identified as Neelesh Naidu, Irfan Ansari, Salman and Santosh Dhruve , a police officer stated to the news agency.