Dysphagia Screening may Help Diagnose Acute Stroke, discovers study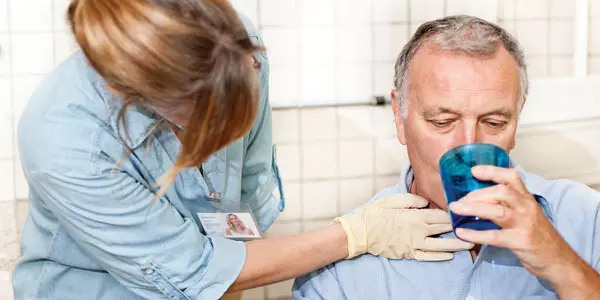 Dysphagia is common following stroke, affecting 55% of acute stroke patients and leads to complications such as aspiration pneumonia, malnutrition, dependency, and mortality. A recent study suggests health benefits from early dysphagia screening in adult patients diagnosed with acute stroke. The study findings were published in the Journal of American Heart Association on 05 June 2021.

Best practice stroke guidelines state level 2 evidence to support early detection for screening, yet practice remains varied. The current evidence, based on only randomized controlled trial (RCT) data, leaves the healthcare professional unclear as to best practice for patients with stroke. However, the evidence from experimental trials alone is inconclusive. Therefore, researchers of the University of Toronto, Canada conducted a meta-analysis to assess whether dysphagia screening benefits from both trial and observational data.
In this meta-analysis, the researchers searched seven electronic databases. Among 8860 citations, the researchers screened 5996 unique abstracts and included a total of 30 articles, 24 observational and 6 randomized trials for the analysis. The articles were screened by 2 independent blinded raters using a priori criteria and discrepancies resolved by consensus. They used Review Manger 5.3 to pool estimates of health benefit for homogeneous data.
Key findings of the study were:
The researchers noted that across studies, the study comparison varied:
◊ no screening versus screening,
◊ late versus earlier screening,
◊ informal versus formal screening,
◊ pre‐ versus postscreening, and
◊ pre‐ versus poststroke guidelines that included screening.
Despite the heterogeneity among study design and experimental groupings, and the risks for bias at the article level, they found that the pooled estimates favoured early dysphagia screening of adult patients admitted with acute stroke as it reduces their risk for pneumonia (OR, 0.57), mortality (OR, 0.52 ), overall dependency(OR, 0.54 ) and length of stay (standardized mean difference, −0.62).
The authors concluded, "Combining evidence from experimental and observational studies derived a significant protective health benefit of dysphagia screening following adult acute stroke for pneumonia, mortality, dependency, and length of stay."
For further information:
Article Source :
Journal of American Heart Association