Exposure to Passive Smoking in child and adult lives may lead to NAFLD in midlife: Study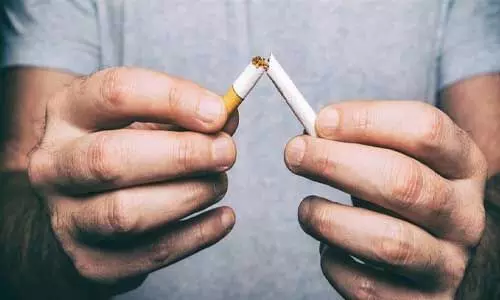 Nonalcoholic fatty liver disease is the one of the most common cause of chronic liver disease. Thus identification of risk factors early in life is important for its prevention
Exposure to passive smoking during childhood and later appears to be associated with an increased risk for fatty liver in adulthood. Therefore prevention of exposure to passive cigarette smoking should begin as early as possible
The study has been published in the American Journal of Gastroenterology.

This study was conducted by Feitong Wu and team with the objective to look at the link between passive smoking in infancy and adulthood and fatty liver in middle age.
A total of 1,315 people took part in this 31-year prospective cohort research. Childhood passive smoking (parental smoking) data was gathered in 1980 (aged 3–18 years) and 1983, while adulthood passive smoking data was collected in 2001, 2007, and 2011. In 2011, ultrasonography was used to detect fatty liver in people aged 34–49.
Fatty liver was found in 16.3% of people. After controlling for relevant confounders such as age, gender, childhood socioeconomic position, and adulthood physical activity and alcohol use, both childhood and adulthood passive smoking were linked with an increased risk of fatty liver. Individuals who had consistent passive smoking exposure between childhood and adulthood had the highest risk compared to those who had no passive smoking exposure in either childhood or adulthood.
There were several limitations in the study, firstly fatty liver during childhood was not measured. Additionally, per study protocol, fatty liver was diagnosed via ultrasound imaging; liver biopsy is considered the standard method for measuring fatty liver.
Passive smoking in both child and adult lives are associated with increased risk of adult fatty liver, suggesting that the prevention of passive smoking should start as early as possible and maintain throughout lifetime.
In conclusion, with the known effect of passive smoking it is suggested that passive smoking avoidance should begin as early as feasible and continue throughout one's life. "These findings suggest that effective strategies for preventing passive smoking in both child and adult life may substantially reduce adult risk of fatty liver," concluded the authors.
Reference:
F, Pahkala K, Juonala M, et al. Childhood and adulthood passive smoking and nonalcoholic fatty liver in midlife: a 31-year cohort study. Am J Gastroenterol. 2021;116(6):1256–1263.
doi: 10.14309/ajg.0000000000001141
Source : American Journal of Gastroenterology