Goa Health Minister launches STEMI Goa Project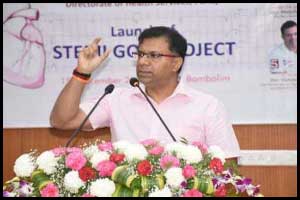 Panaji:  Goa Health Minister Vishwajit Rane launched STEMI Goa project at a function organised by Goa Medical College and Hospitals (GMC), Bambolim, in association with the Directorate of Health Services and GVK EMRI on Saturday.

Speaking on the occasion, Mr Rane said the innovative steps would help to achieve the mission of saving the life.

'It is a proud moment for us as a small state we are implementing STEM project in the state...When you drive the policy you have to think about how you can save and make differences in somebody else's life. Soon Super Speciality hospital is coming up and with super speciality hospital it will create job opportunities for the students in the state of Goa,' he said, adding there was the need to build state of art facilities in the area of health care.

Mr Rane also applauded the services rendered by the doctors in GMC and said health care and health services in Goa must be of a certain level.

'We must get the best expertise and best doctors from outside the state of Goa into the state,' he said.

Addressing the gathering, Health Secretary J Ashok Kumar said with the launch of STEMI project, Goa was stepping into a major milestone.

'Goa is far better than other states in our country as far as health facilities is concerned,' he said. Mr Kumar stated that Goa would be the first state which would be implementing the project by making use of technology to reduce the time taken for the cardiac intervention to address the STEMI patient.

On the occasion, Dr Guruprasad Naik, Medical Director, STEMI Goa Project, briefed about the project.

Dr Edward Dmello, the Senior Physician, said coronary heart diseases, especially ST-elevation Myocardial Infarction (STEMI or heart attack) were a leading cause of mortality globally and in India.