Govt mulls controlling prices of medical equipment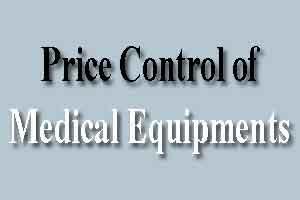 NEW DELHI: The government is considering controlling prices of medical equipment such as stents and implants, Parliament was informed today.

Following a meeting of the Department of Pharmaceuticals with representatives of various manufacturers of medical devices, it was decided that the companies will voluntarily propose a reduction in the marketing expenses of these products and consequentially on the MRP by the first week of December.

This was stated by Minister of State for Chemicals and Fertilizers Hansraj Gangaram Ahir in a reply to a question in Lok Sabha.

The development came after a meeting of Committee of Secretaries was held under the Chairmanship of Cabinet Secretary to discuss mechanism for a separate price control order and a separate vertical within National Pharmaceutical Pricing Authority (NPPA) for medical devices, he added.

Ahir further said that under the plan, all manufacturers of stents/implants were to provide information regarding 'price to retailer' and 'Maximum Retail Price' to NPPA by November 30, 2015.

It was also decided that Department of Pharmaceuticals "may consider issuing a letter to the industry associations to consider voluntary disclosure and self-regulation of marketing expenses," he added.

The meeting also decided that self-regulation by the industry will be reviewed on the basis of information submitted by the industry to NPPA and a decision on statutory regulation will be taken subsequently, Ahir said.