Govt working to give impetus to biomedical research: Nadda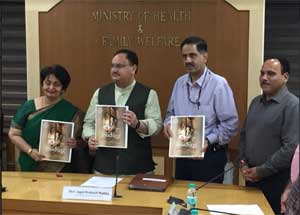 New Delhi
: The government is working to give an impetus to biomedical research, particularly affordable innovations, in the country to improve access to quality health services to citizens, Union Health Minister J P Nadda said today.
He lauded the research contributions of several Indian Council of Medical Research (ICMR) institutes and said it would inspire future scientists to take health research in the country forward.
 With changing demography and increasing burden of non-communicable diseases in India, the ICMR's role as the apex organisation for biomedical research is of tremendous importance in providing significant inputs to the national efforts on attaining sustainable development goals," Nadda said at an event to launch the ICMRs coffee table book, Touching Lives?.
The book includes 16 of the ICMR's path-breaking health research achievements which has left a positive impact on the lives of Indians.
"The government is working to give an impetus to biomedical research particularly affordable innovations in the country focused on improving access to quality of health services to citizens.?
The book has stories of the ICMRs contribution in developing the highly effective DOTS treatment module for tuberculosis (TB) or micro-nutrient fortification of food products or life-saving interventions like oral rehydration solution and vaccines or fluorosis treatment to documenting rare blood-groups, the health research body said in a statement.
"As a celebration of its more than a century-long journey and a recognition of the work performed by its researchers, the ICMR has released this book as well as an animation film on its major achievements," the statement stated.
Speaking at the occasion, Dr Balram Bhargava, the ICMR Director General said, ?Since the ICMR?s inception more than 100 years ago, the Council  focus has been on cutting edge research to generate evidence for health programs and address key public health issues that are of importance to India, such as diseases like tuberculosis and leprosy, child mortality and reproductive health."
An animation film was also released on the occasion which traces the journey of the ICMR since 1911 and its significant health research achievements.
The 6-minute animation film showcases the activities, achievements, flagship programs and future vision of ICMR