Grenade hurled at RIMS Imphal hospital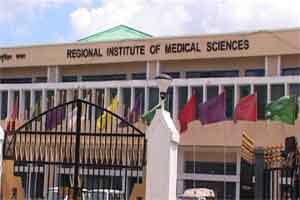 A powerful hand grenade was hurled at the out patient department at the Regional Institute of Medical Sciences in Imphal, but no one was injured in the attack, police said.
Unidentified assailants hurled the grenade on Monday night.
Sources said bombs have been regularly hurled at this medical college under the union ministry of health and family welfare, as insurgent groups accuse hospital officials of indulging in corruption and malpractice.
The house and government quarters of M. Amuba, the hospital's medical superintendent, have also been attacked many times in the past despite the fact that the premises are guarded by security personnel round the clock.