Haryana to prepare report of 84 hospitals as advanced medical facilities: Anil Vij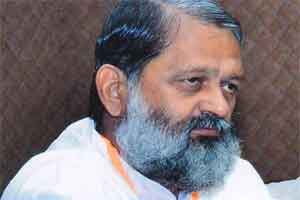 Chandigarh: Haryana Health Minister Anil Vij said a project report of 84 civil hospitals in haryana state will soon be prepared to provide advanced medical facilities to the people.
"Haryana will be the first state to have such kind of medical facilities," he claimed.
The minister was presiding over a meeting with senior officers of National Health Systems Resource Centre (NHSRC), New Delhi, and state health department here.
In the meeting, Vij asked the officers of NHSRC to differentiate the norms of infrastructure in hospitals, prepare the estimates of expenditure to be incurred on the same and also prepare drawing of the project so that work can soon be started.