Health Minister, JP Nadda confers Vishisht Chikitsa Ratan Award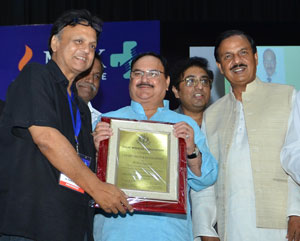 Photo- Dr Prem Aggarwal, Senior Cardiologist and founder Medical Dialogues receiving the award
New Delhi:
Doctors Day celebration in the capital saw, the Union health Minister honouring and facilitating many leading medical professionals for their distinguished work in the profession and contribution to the society.
Speaking at program, organised by the Delhi Medical Association, Nadda thanked the medical profession for working timelessly for the benefits of the patients." Doctors work non-stop hours together, sometimes going on for even more than 36-48 hours together, all the in service of patients. Doctors are the backbone of our healthcare system, and all success that government has achieved in the field has only been possible because of medical practitioners," he said
Pointing out at the importance of communication, he said, " With so much pressure under which doctors are working today, we understand that little time is left for them for effective communication. Understanding this issue, the government is now employing communicators in busy government hospitals, to better the communication between doctors and patients, and help improve the doctor patient relationship."
At a glittering function held at Maulana Azad Medical College, the event saw participation form Union Minister of Culture, Dr Mahesh Sharma and Host of medical luminaries across the capital and country.
On this occasion Nadda 
also
 conferred the
 Vishisht Chikitsa Ratan Award
  to Senior members from
medical 
field for their outstanding contribution towards the
medical
profession and in the service society


Dr Vijay Trehan, Director Professor Cardiology, GB Pant Hospital


Dr Randeep Guleria, Director, AIIMS


Dr Ashok Seth, Cardiologist and Director, Fortis Escorts Heart Institute


Dr Balram Bhargava, Director, ICMR


Dr TS Kler, Leading Electrophysiologist and Head Cardiology, PSRI Hospital


Dr AS Soin, Liver Transplant Surgeon


Dr Ajay Kumar, Senior Gastroenterologist, Fortis Escorts Heart Institute,


Dr Mohan Nair- Senior Cardiologist, Holy Family Hospital,


Dr NK Aggarwal, Head, Forensic Medicine, GTB Hospital


Dr KK Aggarwal- Past president, Indian Medical Association


Dr Ajay Kumar, Senior Uro and Nephro Transplant Surgeon, Patna


Dr SS Aggarwal, Senior Paediatrician, Jaipur Rajasthan


Dr Siddharth Ramji, Dean, Maulana Azad Medical College


Dr Prem Aggarwal, Cardiologist and Founder Medical Dialogues


Besides this, the Union Health Minister, conferred honours of Life Time Achievement Award, to three practicing Nanogenerians ( more than 90 years) doctors. These include Dr.J.S. Guleria, Dr G.P. Seth, Dr. M.G. Abbott and Dr. M.L. Dang
Speaking on the occasion, Dr. Ashwani Goyal, President, DMA said that our doctors are making the nation proud with their outstanding and dedicated medical services as  India is becoming the hub of medical excellence for the nation and whole world. He complimented the doctors for their academic achievements in the medical field alongwith their zeal to serve the humanity and in the various programmes of the government.