Health Ministry is Sleeping: AIIMS doctors on BHU Medicos assault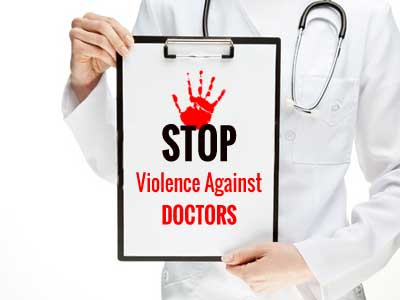 "It seems union health minister is in deep sleep and ignoring doctors agony but now we will not let him sleep comfortably at his residence when doctors hostels are burning with petrol bombs"- AIIMS RDA President
New Delhi: Condemning the recent horrific episode of brutal assault whereby resident doctors of IMS-BHU were nearly beaten to death by mob of angered students of Banaras Hindu University (BHU), the Resident Doctors' Association (RDA) AIIMS Delhi, has written to the Union Health Minister JP Nadda urging him to take immediate action against the attackers as well as bring out central Doctors Protection Act.
The incident took place on September 24 when an attendant fought with the doctors for non-availability of beds. The incident slowly escalated out of proportion and soon after, resident doctors and undergraduate students were attacked by mob of the students, beaten with rods. Moreover, petrol bombs were thrown on Doctors hostel, their hostel rooms and vehicles were burnt
Read Also: Height of Brutality: BHU Resident Doctors assaulted with stones, petrol bombs, iron rods and acid bottles
Medical fraternity across the nation is in deep grief and frightened to see this brutality. Doctors association from across the country have come forward condemning the act and demanding action from the government.
In a communiqué to Medical Dialogues, AIIMS RDA President, Dr Harjit Singh Bhatti blamed  the government's apparent lethargy on the crucial issue of assault on medical professionals.
"It seems union health minister is in deep sleep and ignoring doctors agony but now we will not let him sleep comfortably at his residence when doctors hostels are burning with petrol bombs." he said.
"The act is extremely horrific where hundreds of goons entered the resident doctors hostel with an intention to kill because the doctors were unable to provide bed for the patients in the hospital," the RDA stated pointing out to the backbone role of resident doctors in the medical field.
In a letter written to the Health Minister, AIIMS RDA has come out in support of the medicos at IMS, BHU stating that if the government does not come out and take proactive action against the culprits till September 28, AIIMS doctors will launch an alarm clock protest outside the Health Minister's residence
"If no action was taken within 48 hours against the culprits then we will launch an alarm clock protest outside Shri JP Nadda's residence on 28th September, Friday at 6 PM where we will ring 100 alarm clocks to wake him up from his apparent deep sleep and attract his focus towards doctors safety," AIIMS RDA president stated.
Doctors also pointed out that the main reason for assaults is shortage of infrastructure. Speaking on the Assault, FORDA President, 
Dr Surnedh said," 
Despite Putting all their best efforts in service of mankind doctors and medical students are being manhandelled on daily basis. Government hospitals are devoid of basic infrastructure and doctors are being held responsible for that. Worst are these days when doctors are being attacked in hostels, hospitals, vehicles are been set ablaze just because government has failed miserably to provide basic facilities in hospitals."
"Doctors are demanding for safe working environment but the administration never pays heed to this. Our Doctors are deprived of every single basic need at work place be it security of work place, remunerations, job security or even our mental health. Despite putting most productive years of life in service of mankind and society and being denied our basic right, We are left with mere resentment observing such callous attitude towards us. Hard work done by resident doctor is denounced by public and they have bear the wrath of anguished attendants on day to day basis," Dr Manish Nigam, Vice President FORDA added 
Doctors have demanded Central Law for Doctors Protection.