Hyderabad: 800 Gandhi Hospital doctors call off strikes after meeting health minister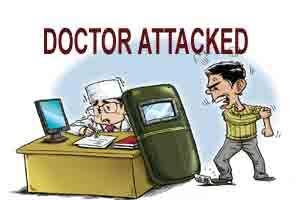 Hyderabad: 
Around 800 junior doctors of two medical institutes had been on strike after a colleague was severely attacked by a relative of a 2 months old child who died in hospital. The strike was only called off after a meeting with health minister.
It is reported that a junior doctor of paediatric department of the state-run Gandhi hospital was badly attacked after a child, suffering from breathlessness and signs of 
pneumonia
died in the hospital on Tuesday evening.
The doctor was allegedly assaulted in front of the security that did nothing to stop the attack.
Junior doctors at the Gandhi hospital boycotted the elective duties and went on an indefinite strike from Wednesday.
The doctors from Gandhi Hospital and Niloufer Hospitals collectively staged a protest on Thursday over the alleged attack.
Read Also: Hyderabad: Paediatrician assaulted, IAP threatens to shut OPD services for 24 hours
The doctor was allegedly assaulted in front of the security that did nothing to stop the attack.
Dr PS Vijayender Goud, president, Telangana Junior Doctors Association told
TOI
, "It was a case of congestive cardiac failure and was treated as per protocol with inotrops. The patient's pulse rate was 210 and he was hyper ventilated as well as intubated. Also the risk was explained to the attenders and consent was taken. One female attender assaulted the doctor in fornt of five to six security persons, who did nothing to stop the assault."
The protesting doctors met Telangana state Health Minister Etela Rajender on Thursday and expressed their concern over their security; the protesting doctors appealed to him to improve security measures around the institutions for the safety of doctors.
Senior health officials, including the DME (director of medical education) Ramesh Reddy also met the protesting doctors.
They reassured the doctors that their complaints and demands would be taken seriously and met with appropriate action.
They said the government is keen on improving the things at the hospitals. The action would be taken against those who attack the doctors, PTI reports.
In the meantime, the doctors agreed to call off their strike and continue working at the hospitals from Friday, reports the
news minute
.