Hyderabad : KIMS Hospitals organises CPR training for Traffic Police Personnel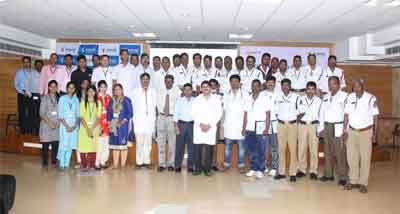 Hyderabad : The city's renowned multi speciality hospital KIMS Hospitals conducted an edifying session on Cardiopulmonary Resuscitation exclusively for the second batch of Hyderabad Traffic Police. 45 Hyderabad traffic police personnel received hands on training on this life-saving technique for medical emergencies that occurs outside hospital walls.
Cardiopulmonary resuscitation commonly referred to as CPR is a technique used to revive people who suffer from cardiac arrest by restoring breathing and blood circulation levels back to normal. Any person can be easily trained to perform immediate CPR to victims and save lives. With the police officials arriving early at the spots, it is essential for them to be trained on the correct method of performing CPR. In this manner death rates that occur in public due to cardiac arrests can be significantly reduced.
Speaking at the program, the KIMS Hospital's Senior Cardiologist & Course Director, Dr. B. Hygriv Rao said; "Approximately 700,000 die with sudden cardiac arrest in our country each year. Cardiac arrest can occur not only in a patient with heart disease but can also be the first presenting problem in an apparently normal individual. Approximately 95 percent of sudden cardiac arrest victims die before reaching the hospital.  When a person has a cardiac arrest, within 4-6 minutes brain cells begin to die and in 10-16 minutes, he is completely brain dead. Chances of survival decrease by 10% with every minute of delay. Quick initiation of CPR by a lay person who witnesses this event of cardiac arrest will increase their chance of survival by 300%. Using an Automated External defibrillator (AED) will increase success of CPR much more as it is programmed to guide the user to shock abnormal dangerous rhythms to normal. Patients can then be transported to a hospital for further treatment. Sadly only a small number of victims receive CPR as awareness levels are very low amongst public. A lot more lives can be saved; if we can have AED's in all public places and undertake CPR training in a large scale. We are glad to have successfully rolled out our CPR program with the Hyderabad Traffic Police who often are the first to encounter a person falling unconscious on the street"
The program organized by KIMS Hospitals was highly educative with supervised hands on training on the technique of CPR, as a team of expert critical care specialists department facilitated it with lectures, videos and presentations. The police personnel took part in interactive sessions and were made to also undergo practical training using mannequins.