Hyderabad: Paediatrician assaulted, IAP threatens to shut OPD services for 24 hours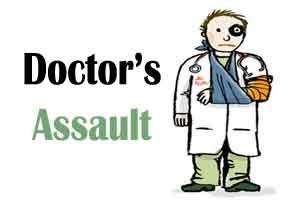 Hyderabad: The Indian Academy of Paediatrics (IAP) members have come out in protest after the senior pediatrician was physically assaulted by two men in his clinic. The doctor was injured after the assault and admitted to a hospital. The two accused have been arrested by the local police.
According to recently media reports, the case concerns a child specialist, Dr Michael Aranha, who runs a clinic at Lingapur Building, Himayatnagar.
Narrating the incident of assault, Deputy Commissioner of Police (Central Zone) P Vishwa Prasad told the Indian Express, that "After investigation, we found that a woman had gone with a child for check-up and had an altercation with the doctor. She was apparently angry that the doctor made her wait for long. After leaving the clinic she called her husband, who arrived with an accomplice and assaulted the doctor. The motive for the offense is alleged insult of the woman."
The doctor suffered from serious injuries on his head and chest and was immediately admitted to a hospital.
The said incident of doctor assault is the reportedly the second case within a week. Reacting to the alleged attack Indian Academy of Pediatrics (IAP), Greater Hyderabad branch demanded justice by protesting in front of the DGP office at Lakdikapul. The members of the academy members threatened that private clinics, nursing homes and in some corporate hospitals shut down out-patient services for pediatric cases for 24 hours.
A complaint was filed by Dr Aranha at Narayanaguda police station. The case had been registered under r IPC 448 and 326 sections and section 4 of Telangana Medical Service Persons and Medical Service Institutions (prevention of violence and damages to property) Act 2008. The police informed
HansIndia
 that the offenses are cognizable and non bailable.
Following the complaint,  the two accused have been taken in custody. However, a reverse case has also been registered based on a complaint of the woman.
Read Also: Slapped, Abused: Second Year Resident Doctor Assaulted at Cooper Hospital