ICMR developed world's first injectable male contraceptive: MOS Health informs on its features, side effects, expected launch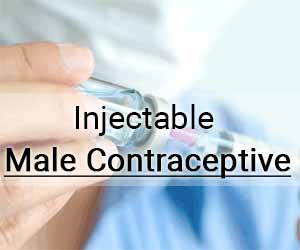 New Delhi: RISUG (Reversible Inhibition of sperm under guidance), the world's first injectable male contraceptive, has gone to the Drug Control General of India (DCGI) for regulatory approvals and is expected to soon hit the market after approval of the authorities
Information to this effect was given by the Shri Ashwini Kumar Choubey, the Minister of State in the Ministry of Health and Family Welfare (MOS Health) to the Lok sabha.
"Clinical trials of injectable male contraceptive- Reversible Inhibition of sperm under guidance (RISUG) have been completed successfully," MOS Health informed.
REad also: ICMR develops first ever male contraceptive injection that may replace vasectomy
The minister was responding to a series of questions raised in the parliament about the injectable male contraceptive and its expected launch in India
Responding to the questions, the minister also informed about specific characteristics of the contraceptive:


It is non-hormonal and involves one-time injection procedure which ultimately leads to azoospermia in men.


The intervention is localized only to vas deferens and there is no detectable interaction with other parts of the body. It therefore differs from hormonal injectable contraceptives, which influence the reproductive system as well as virtually all other parts of the human system.


It is a minimally invasive procedure.


A single injection provides contraception for longer duration.


The method is reversible as has been proved through animal experimentation on primates.


RISUG has been reported to have no adverse side-effects.


Contraceptive efficacy of RISUG is 97.3% in terms of achieving azoospermia and 99.02% in terms of achieving pregnancy.


The question about its side-effects was also raised, to which the minister answered that there are no adverse side-effects reported by RISUG.
"However, low-grade scrotal swelling and scrotal pain has been observed in some cases, which gradually subsided within a week/two weeks with scrotal support," he informed
When further asked about the regulatory approvals from the concerned authorities regarding its use and its availability in the market, he replied: "Necessary regulatory approval from the Drug Controller General of India (DCGI), has been sought for its use and the contraceptive is likely to be available in the market after approval of the DCGI."
MPs also questioned the steps taken by the Government to disseminate information and create awareness among common public about this new technology
"Research/Programme will be undertaken to study the behavioural changes, communication package intervention to address male participation in contraceptive choices," the minister responded