Walk-In-Interview At SAIL Durgapur For GDMO, Specialist Posts; Apply Now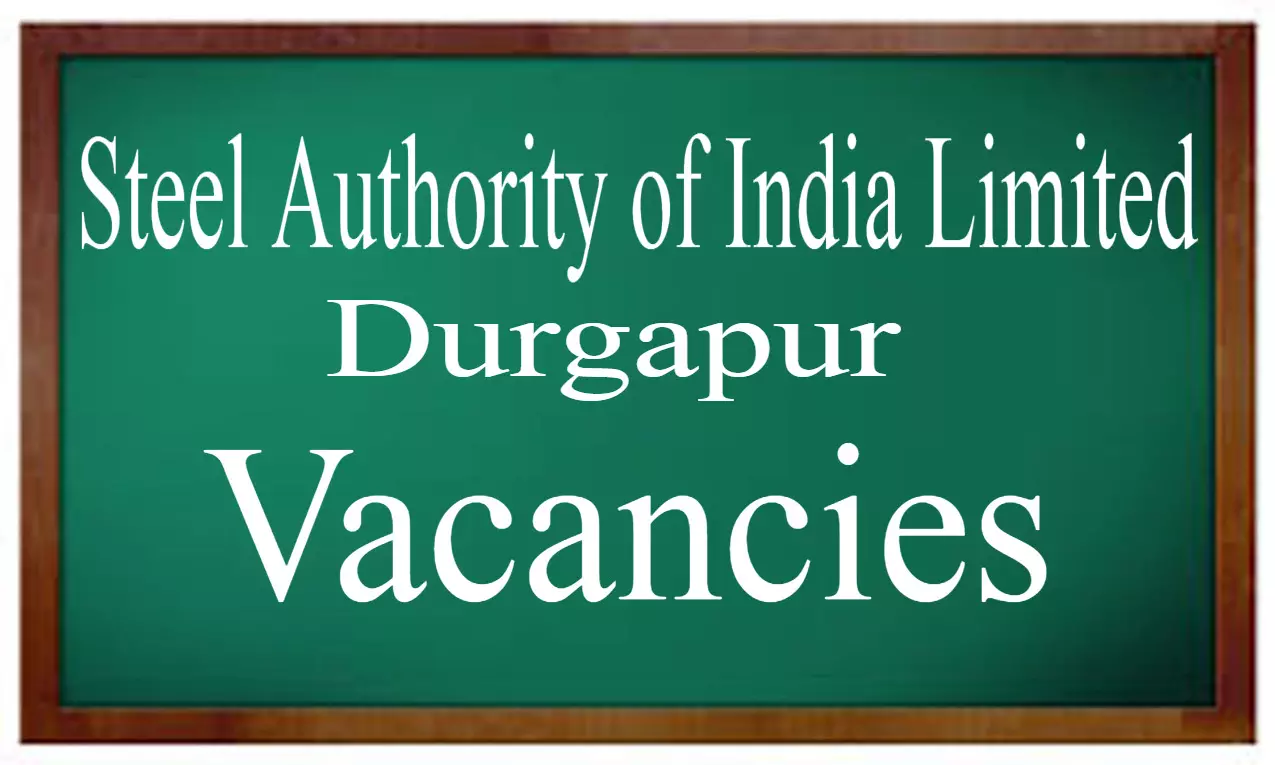 Durgapur -The Steel Authority of India Limited (SAIL Durgapur) West Bengal has released 23 vacancies for General Duty Medical Officer (GDMO) and Specialist posts on Contractual Basis. The selection will be done on the basis of the walk-in-interview.
Steel Authority of India Limited (SAIL) is one of the largest steel-making companies in India and one of the Maharatna's of the country's Central Public Sector Enterprises. SAIL produces iron and steel at five integrated plants and three special steel plants, located principally in the eastern and central regions of India and situated close to domestic sources of raw materials. SAIL manufactures and sells a broad range of steel products.
Vacancy Details:
Total No of Vacancies: 23
GDMO - 17
Specialists - 06
The Vacancies are in the Department of - Radiology, Anesthesia, Ophthalmology, Critical Care, and Chest & TB.
Last Date of Application: 27th October 2020.
Date of Walk-in-Interview: 4th November 2020.
For more details about Qualification, Age, and Pay Allowance, and much more, click on the given link:
https://medicaljob.in/jobs.php?post_type=&job_tags=SAIL+vacancies&location=&job_sector=all
What are the Terms and Conditions?
1. Candidate must be an Indian National possessing requisite qualification from an institute recognized by State Govt. /Central Govt (Registered with MCI or having a valid practitioner license)
2. Eligible & interested candidates will have to appear in the walk-in interview on the date, time & venue
3. All certificates in respect of eligibility criteria viz. requisite educational & professional qualification experience, caste certificate, proof of date of birth, etc. are to be valid on the closing date of application as mentioned in the advertisement.
4. Candidates will have to attend the walk-in-interview at the scheduled date & time at their own cost and have to ensure the following during walk-in-interview -. Availability of all required original documents (Annexures -as sent through email) and to be shown on demand.
5. All certificates & documents in the original in support of eligibility will be verified during walk-in-interview and any candidate who fails to produce the same will not be allowed to appear at the interview. Therefore candidates are requested to ensure their eligibility before appearing in the walk-in-interview.
6.The engagement is purely on a "contractual basis" and is not to be construed as giving rise to any right of regular appointment 1n Durgapur Steel Plant in any manner whatsoever.
7. DSP reserves the sole authority to consider the cases as per its rules and the decision of DSP in this regard shall be firm & binding.
8. DSP reserves the right to reject any application OR cancel the candidature OR the whole process of interview OR engage less than the no. of doctors indicated above, without assigning any reason thereat and no inquiry or correspondence will be entertained in this connection. The decision of the Interview Board constituted by DSP for this purpose shall be final and binding.
9. Candidature of an applicant is liable to be rejected at any stage of the selection process or after selection if any information provided by the candidate is found to be false or is found not to be 1n conformity with requisite eligibility criteria mentioned in the advertisement or found impersonating during selection process including the online interview. This may also invite legal action as deemed fit.
10. The Court of jurisdiction for any dispute will be at Durgapur.