Karnataka: Aster CMI Hospital launches first Dialysis and Chemotherapy Day Care Centre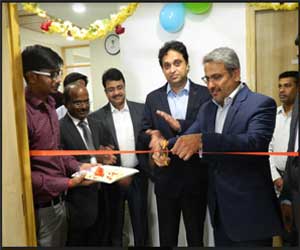 Bangalore: With an aim to provide healthcare solutions under one roof at an affordable price, Aster Hospital announced the launch of first of its kind new Dialysis and Chemotherapy Day Care Centre besides their already existing preventive healthcare diagnostic setup. The facility, inaugurated by Mr. Hari K Marar, Managing Director & CEO, Bangalore International Airport Limited (BIAL), intends to reduce the hassle and anxiety that the patients go through due to lack of access to cancer and kidney care locally at Yelahanka. With the inauguration of these services, the best in class oncology and renal care services will now be available to people living in and around Yelahanka.
Mr. Ramesh Kumar, COO, Aster CMI Hospital, said: "Currently in Bangalore, people are not able to tend to the needs of their health due to several factors such as traffic and distance issues. This facility, placed at the vicinity of one's home will enable ease and convenience of seeking consultations and medical advice. With the new services, patients will also have the choice of a second opinion, enabling the doctors to choose the best line of treatment, especially for critical health issues like cancer and end stage kidney disease.
Speaking at the launch, Dr. Vijay Agarwal, Lead & Sr. Consultant Medical Oncology & Haematology, Aster CMI Hospital said: "Owing to the rising number of cancer patient every year, it has become the need of the hour to come up with dedicated chemotherapy clinics apart from the existing chemotherapy units in the hospital. This not only helps in maximizing the reach of the treatment among patients but also makes it easy for them to get access to quality treatment at a reasonable cost and without having to travel long distance. Now cancer patients in Yelahanka can avail chemotherapy facility closer to their homes."
"For patients suffering from end stage kidney disease, lack of adequate dialysis centers have always been the pain point. By providing these services locally, we are confident that such patients will benefit from the accessible, affordable, timely and quality care. The launch of this new center will also enable us to treat patients coming to the facility in an efficient way and make them feel at home,"said Dr. Vidya Shankar P, Lead Consultant, Nephrology, Aster CMI Hospital.
Aster clinics which is constantly reshaping the healthcare landscape across the many neighborhoods in Bangalore, offers specialist consultation and host of services for Gynaecology, ENT, Paediatric, Dermatology, Cardiology, Orthopaedics, Ophthalmology, Endocrinology and Neurology etc.