KIMS Hospital Installs Next Generation Da Vinci Si Surgical Robotic System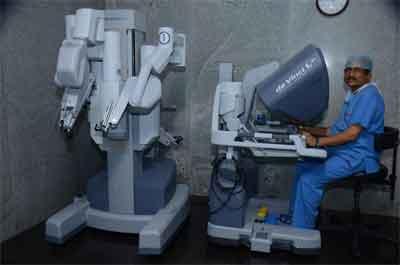 Hyderabad: The Krishna Institute of Medical Sciences (KIMS Hospitals) announced the installation of next generation upgraded surgical robotic system da Vinci Si Model in its facility at Secunderabad. With its first Da Vinci robot setup in 2011, KIMS Hospitals has completed 700 surgeries. Now, the hospital has installed the next generation Da Vinci Si Model at a cost of two million USD. Currently, eight trained doctors in six medical specializations including Oncology, Gynecology, Urology, ENT, Gastroenterology and General Surgery at KIMS are performing robotics surgeries.
New da Vinci Si includes several features:


Dual-console capability to support training and collaboration during minimally invasive surgery.


Enhanced high-definition 3D vision for superior clinical capability


An updated user interface for streamlined setup and OR(operating room) turnover


Extensibility for digital OR integration


Dr Bhaskar Rao, CEO & MD, KIMS Hospitals said, "with increased awareness among our patients, we felt the need of acquiring latest Si model of da Vinci Robotic System in place of our old SD Model Robotic System acquired in 2011, for giving better care and to perform more complex surgical procedures, which otherwise not possible with laparoscopy. In last six years, KIMS Hospitals has come a long way in learning and mastering the robotic machine and technology by its clinical applications in the successful outcome of 700 procedures."
According to available statistics, the number of robotic surgeries being performed in India has increased to 3000 to 4000 per year, which is still very less considering eclectic spectrum of our country. And KIMS Hospitals is at the fore-front to concoct its doctors and patronage this program to augment for the betterment of their patients. KIMS is also amongst the first hospitals to capitalize and gain expertise on robot-assisted surgeries.
Some of the doctors who are in charge of robotic programme include Dr. Gopichand, Urologist, Dr Neena Desai, Gynecologist, Dr Lakshmikanth, Bariatric and Gastrointestinal Surgery, Dr D Madhu, Surgical Oncologist, Dr Kalyan Chakravarthy, ENT, Dr Suresh Kumar G, General Surgery, Dr MBV Prasad, General Surgery, Dr Vijay Kumar Bada, Surgical Gastroenterology.