Kolkata: Doctor on-duty manhandled by patient relatives, four arrested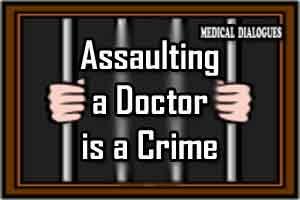 Kolkata: In a recent incident of assault reported from Topsia, an on-duty doctor attached to a nursing home got manhandled by four of his patient's relatives. The police have arrested the four on Wednesday on grounds of assault and vandalism.

The patient, Musarraf Ali, a resident of Khidderpore, was suffering from some neurological problem and he was admitted at the Fleming Nursing Home on February 27. He was put on ventilation after his condition deteriorated the night before his demise.

The relatives have claimed 'medical negligence' as the reason for Ali's death. "His family members have alleged that the nursing home didn't give him proper treatment during the night," a police official told the Indian Express.

As per the police sources, the relatives of the deceased got a call at around 3.30 am from the nursing home, saying that the patient's condition was not good. "The family members then rushed to the nursing home but allegedly could not find the doctor under whom Ali was being treated. He was declared dead at 5.10 am.

"Following this, angry relatives assaulted on-duty doctor Sumit Mondal and also broke the glass panels and front door of the reception," a police officer told the daily.

The daily reports that the local police along with forces from Lalbazar and neighboring police station headed by Deputy Commissioner (East) Rupesh Kumar rushed to the spot and brought the situation under control.

The hospital authorities registered a complaint in response to the assault and vandalism.

A police official stated that as per the complaint, a case has been lodged against the four under sections 147, 148, 149, 323 and 427 of the IPC and the arrest has been made on the same. Those held have been identified as Md Shanwar (22), Md Aftab (29), Md Shoaib (22) and Md Mukhtar (22).