Mathura: Nayati healthcare launches Centre for Orthopedics and Joint replacement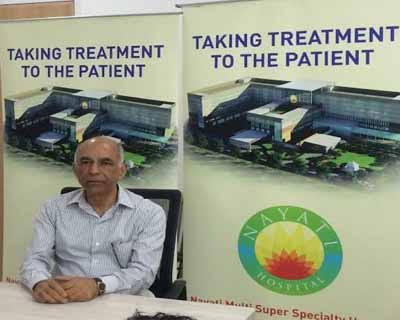 Mathura: The recently established Nayati Super Speciality Hospital has announced the full commencement of comprehensive and advanced services at the Centre for Orthopaedic & Joint replacement in Mathura.
Announcing the full functioning of the Centre of excellence for Orthopaedic and Joint replacement, Nayati Healthcare Chairperson Niira Radia said, "In our pursuit to provide people of this region easier access to specialized and cost-effective medical services, we are pleased to announce that the centre is equipped to provide treatment for all common musculoskeletal disorders. Our team of specialists is amongst the best in the world and our technology is at par with global benchmarks. Our team has expertise in the field of joint replacement, pelvic ace tabular fractures, and arthroscopic surgeries including sports medicine, deformity correction, complex injury and surgical salvage of failed upper and lower limb trauma."
"In last couple of months we have noticed that due to increased vehicular accidents, pelvis & ace tabular fractures are getting more frequent. Very few centres in India and in this region particularly are capable of dealing with such life & limb threatening injuries. We have unparalleled expertise in this field and our centre can make a difference in recovery & rehabilitation in otherwise debilitating injuries," she further added.
 Dr. R. K. Mani, CEO-Medical Services, Chairman Pulmonology & Critical Care Medicine stated" A comprehensive Orthopaedics and Joint Replacement Service is now available at the NSSH. It has the expertise and the infrastructure to deliver the whole spectrum from acute care and trauma to arthroscopy, disability limitation and joint replacement surgeries. The team consists of highly qualified and experienced orthopedic surgeons headed by an eminent and well known specialist."
 Dr. U. K. Sadhoo, Director & Head, Nayati Centre of excellence for Orthopedics & Joint replacement said, "Fractures are increasingly affecting many lives causing discomfort, disability and loss of earnings. We at Nayati hospital have a comprehensive conservative & surgical expertise for rapid recovery. There are many occasions when a previous fracture surgery fails. This leads to frustration & mounting disability. Our team has capability to deal with many of such complex situations for corrective surgery leading to salvage & in many cases, full recovery."
 This especially includes Hip fractures(Neck Femur) in young people in whom joint preservation surgery is far more sensible option than replacement. Similar preservation surgery can be done in Knee OA including Osteotomy, Mosaicplasty through keyhole surgery(Arthroscopy)"
"No injury or health setback should ever be an obstacle in fulfilling your sporting dreams and living life to the full potential. The key hole surgery (arthroscopy) & sports medicine is our niche area in which knee, shoulder & other joints problems are tackled with very small cuts resulting in little scar, which are aesthetically very pleasing. At par with international standards, we are delivering these with the help of most advanced technology and techniques available today to the people of the region."
 The centre is equipped to provide 24x7 Trauma services with full-time emergency personal & multi-disciplinary services by means of state-of-the art technology and infrastructure available at Nayati hospital.