MBBS have to serve in govt hospitals for 2 yrs: Haryana Govt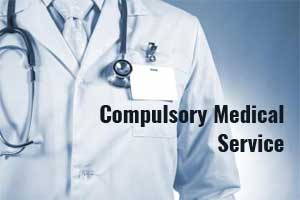 Haryana: Those completing their MBBS from government medical colleges in Haryana will now have to give compulsory services for two years at state-run hospitals.
Presiding over a meeting of the Haryana Medical Education and Research Department today, Health Minister Anil Vij said this would help in minimising the shortage of doctors in the state.
"Around 800 doctors from four government hospitals will be available in two years," he said, according to an official release.
Besides, seats at the dental college of the Post-Graduate Institute of Medical Science in Rohtak has been increased from 60 to 100, the minister said.
This decision would also help in improving the availability of dentists in Haryana, Vij said.
He also said that Union Health Minister J P Nadda would be the chief guest at the foundation stone laying ceremony of the Government Medical College in Bhiwani.
The minister said that the officials of the Gold Field Medical College in Faridabad have urged the Haryana government to bring it under the ambit of the state.
"The matter would be placed before the chief minister for a decision," he added.