Case of drug induced syndrome of Inappropriate Antidiuretic Hormone reported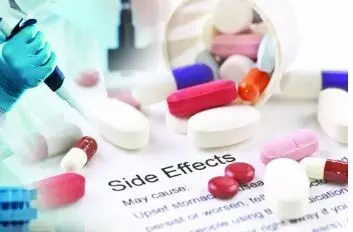 Use of selective serotonin reuptake inhibitors (SSRIs) has been reported to be associated with the syndrome of inappropriate antidiuretic hormone (SIADH), although it is uncommon. Nonsteroidal anti-inflammatory drugs (NSAIDs), as a sole agent, are an even rarer cause of SIADH. Despite being documented in the literature, the understanding of the mechanism of both agents is limited. Recently researchers have reported a case of a patient taking both of these medications, a dangerous combination that led to the development of SIADH.

In a recently published case report by Chia-Yu Chiu, from Department of Medicine, Lincoln Medical Center, Bronx, NY, USA ,in the American Journal Of Case Reports , an 88-year-old woman with a history of asymptomatic chronic hyponatremia presented to the facility with symptomatic acute-on-chronic hyponatremia after she started using naproxen in addition to her daily citalopram.

Her hyponatremia symptoms resolved after discontinuing these 2 offending agents, along with administration of fluid restriction and oral sodium supplements.
Regarding such unwanted adverse effects, the team wrote that "Naproxen is commonly prescribed and is often taken by elderly patients to control long-term or short-term pain. SSRIs, on the other hand, are a first-line treatment for depression and are usually prescribe by a psychiatrist. Hyponatremia is a rare medication adverse effect that should be kept in mind when treating these patients with either of these medications, and should especially be considered when combining them. Medication reconciliation should be done carefully by the provider to avoid adverse effects and drug interactions. When hyponatremia is encountered, options for future medication prescriptions include rechallenging with the same medication, switching to a different medication with the same mechanism of action, or using a medication from another class altogether. Monitoring of serum sodium level is warranted when titrating the offending agent."
For the full article follow the link: 10.12659/AJCR.926561
Primary source: American Journal Of Case Reports
Source : American Journal Of Case Reports