Was upset over absence of civil surgeon: Ahir clarifies on remarks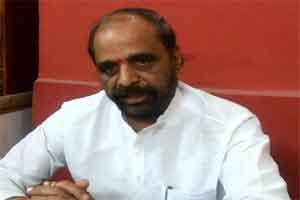 Chandrapur: Union Minister Hansraj Ahir, who stoked a controversy with his remarks on doctors, today said his statement was specifically aimed at the Civil Surgeon who skipped the government hospital function and "misinterpreted" by media.
Miffed over the absence of senior doctors at a function in his Lok Sabha constituency Chandrapur yesterday, the Union Minister of State for Home Affairs had said that "these people should join Naxals" and "we will then shoot you with bullets".
Ahir was speaking at the inauguration of a generic medicine counter at the Government Medical College and Hospital in Chandrapur, in eastern Maharashtra. The district civil surgeon, Uday Nawade, and dean of the medical college, S S More, were not present at the event.
Speaking in Marathi, Ahir had said, "What do the Naxals want? They don't want democracy. I handle the home ministry, so I know it. These people (referring to the senior doctors) don't want democracy."
"So they should join Naxals. Why do you stay here? Go there, then we will shoot you with bullets. Why do you give tablets (pills) here? How justified is it to remain absent when I am coming to the hospital," Ahir had said.
Ahir today told PTI that he was "upset" over the absence of the Civil Surgeon at the event, for which many dignitaries like the mayor, the deputy mayor and prominent doctors were present.
"The civil surgeon, the one who should have led from the front, was absent, which was disgraceful," Ahir said.
He said his comment was aimed particularly at the Civil Surgeon's "irresponsible behaviour" and not at other government officials or doctors, as is being "misinterpreted" by media.
"Naxals don't want democracy, I know this as I am in the Home Ministry and if you also do not believe in democracy better go and join Naxals if you are not interested in giving tablets then we shall give you 'goli' (pills). This was my statement which has been misinterpreted and quoted out of contest," he said.
According to Ahir, the absence of the Civil Surgeon, as an organiser of the programme, was "nothing less than an insult to democracy" and his intention was to "discipline" him by giving some pills which the civil hospital was supposed to take up for distribution to patients.
Read also: Minister tells doctors to join Naxals, so govt can kill them