Nashik: Sonography centre sealed for conducting sex determination test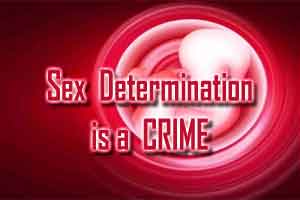 Nashik: The Nashik Municipal Corporation (NMC) has sealed a sonography centre here and suspended its registration for allegedly carrying out sex determination test in violation of law, an official said.
The civic body received a complaint on its website about a doctor running the sonography centre in Satpur locality here and allegedly carrying out the sex determination tests of pregnant women in a mobile car, NMC's medical superintendent Rajendra Bhandari told reporters yesterday.
Based on the complaint, the medical squad of NMC kept a close watch on the doctor's car, which was found to be going around in the district's tribal-dominated areas and allegedly conducting the test, which is prohibited under the Pre-Conception and Pre-Natal Diagnostic Techniques (PCPNDT) Act, he said.
The squad seized the car yesterday and recovered the sonography equipment from it, he said.
The NMC's medical department later sealed the sonography centre and suspended its registration, Bhandari said.
A show cause notice was also issued to the doctor, he added.