Nayati Healthcare launches organ donation program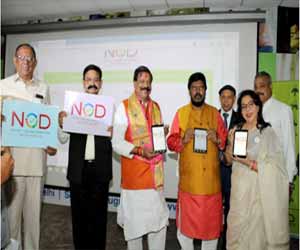 Uttar Pradesh: Nayati Healthcare Mathura recently launched the Nayati Organ Donation (NOD) program, which was unveiled by Ramdas Athawale, the Honorable Minister of State for Social Justice and Empowerment, in presence of the members of Organ Donation India Foundation, and Rotary Club. 
The initiative is aimed at educating people and raising awareness around the importance of saving lives, through pledging organs.  Adopting a multilayered approach, the program is expected to reach out to over 1 million people at the grass-roots level in a period of two years. 
The Honorable Minister of State for Social Justice and Empowerment praised Nayati Healthcare for its efforts of making quality medical care accessible to people. "I am happy to be part of the Nayati Organ Donation (NOD) program, I am sure through the initiative, Nayati will reach out to people across different sections of the society, educate and empower them to participate in the noble cause and thus strengthen the nation," Ramdas Athawale said.
Speaking on the occasion, the Chairperson of
Nayati Healthcare
, Niira Radia said, "The Nayati Organ Donation (NOD) program is an initiative very close to my heart. Every day we witness precious lives being lost for the need of organs, the situation is more acute in this region where people struggle with chronic organ diseases, and most of the times are not even aware of the magnitude of their condition."
She added, "Nayati Healthcare performed the first kidney transplant in the region.  We have been relentlessly working towards making transplant treatment services within the reach of the masses and will soon be launching our heart and lung transplant program."
When it comes to the organs available and the number of transplants awaited, India witnesses a huge disparity. Niira Radia, in her address, drew attention to this disparity and revealed that in 2017, 4 lakh people pledged, out or which only 13,000 people donated their organs. "The condition is no different for blood donation where India faced a shortage of 1.9 million units in 2016-2017. The need of the hour is for us to adopt the 'opt-out' scheme, thus raise organ donation rates," she said.
According to the Nayati Healthcare Chairperson, the idea behind the
Nayati Organ Donation
(NOD) initiative is to bring about a change in the perceptions and foster a culture of organ donation. "Each one of us can save up to eight lives and that is the best legacy for us to leave behind. I would like to express my sincere gratitude towards Shri Ramdas Athawale Ji for extending his support to the cause. A simple nod can go a long way in saving lives," Niira Radia stated.
Read Also: How Niira Radia's Nayati Healthcare saved the life of a two-day old baby?